After a successful fundraiser (Fundraiser: Pure Data for VCV Prototype) to add Pure Data support to VCV Prototype, Clemens Wegener and Max Neupert (@max2) from CHAIR have released the first version of their libpd Prototype engine which makes this possible.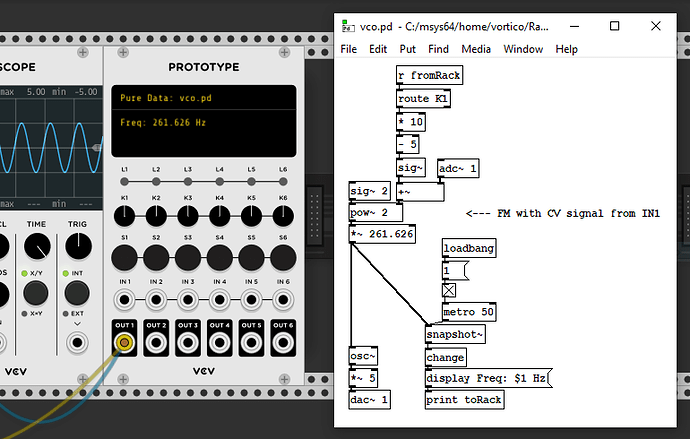 To get started with Pure Data, download it and read one of these tutorials made by Pure Data users or watch tutorials on YouTube.
To make a Pure Data patch in VCV Prototype, right-click on the Prototype panel, choose "Set Pure Data application", and locate your installed Pure Data application. (e.g. C:/Program Files/Pd/bin/pd.exe on Windows, /usr/bin/pd-gui on Linux, /Applications/Pd-0.50-2.app on Mac). Then right-click on the Prototype panel again, choose "New script", and save to any location with a .pd extension. Pure Data will automatically launch with the template patch. When you save your Pure Data patch, VCV Prototype will automatically reload it.
Tutorials and videos for using Pure Data with VCV Prototype will soon be available, but it is now ready to try using VCV Prototype v1.3.0, available from its VCV Library entry.