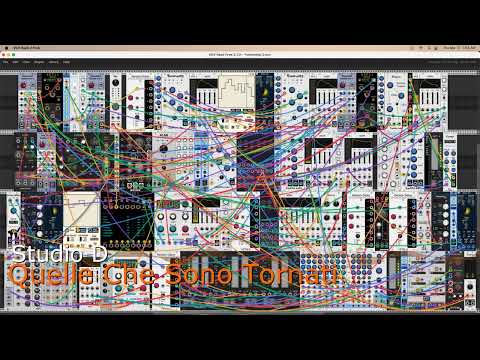 Another early morning ambience, for @LarsBjerregaard and @Ahornberg.
From the YT notes:
Quelle Che Sono Tornati - Those Who Have Returned

An ambience created with VCV Rack, dedicated to the birds and other creatures returning to my back yard with the arriving Spring weather.

The patch is sufficiently complex to allow me the luxury of skipping its exegesis. A thorough analysis would be tedious and ultimately unenlightening. However, some structural aspects bear a closer look.

The patch is built from five sound blocks. Two blocks include a single instrument each, one for the sustained chords, the other for the bass part. Of the remaining blocks, one includes a set of three percussion instruments (kick, snare, tom), one binds three instances of a lead instrument, and one provides the various bird sounds. No samples are used here, all the bird calls are synthesized in VCV Rack.

In many of my recent patches I've been working on emulating instrumental improvisation, heard here in the bass and lead parts. The design simply sets a batch of bird-calls against a chord pad, with bass and lead obbligati, that's really all that's happening in the performance.

The internal connectivity is rather complicated, and the most useful description is the patch itself. Although it will not be uploaded to Patchstorage I'm happy to send the patch to anyone on request.

Recorded with the VCV Recorder module, edited with Ocenaudio.

As always, eternal gratitude to the many makers of this marvelous software. Studio D bows deeply from the waist.