This little patch came out of a discussion on the forum here, and I wanted to share it because I find it so pleasing.
It's basically a little advertisement for two of the brilliant modules we have in Rack…
Atelier::Palette: This is Plaits so it's already brilliant. But it's enhanced with a wonderful new design (thanks Pyer), and has broken out all the controllable features of Plaits, which you might not know of, right onto the front, so it's very playable and user friendly. And it has some enhancements, notably the unison/spread feature which makes some gorgeous, big voices. Really, go play with it, it's wonderful - Thanks Xenakios and Pyer!
ML Modules::Evolution: This is an extremely overlooked CV/Note generator/modifier, which I especially like for creating the kind of semi-random/evolving sequences, where you have a steady, regular sequence, that then evolves in a direction, resolves back to the original, and then evolves in a different direction again. It's very pleasing to the ear. Think of it kind of like Fate but with memory. I highly recommend you give this a try. It can appear a bit obscure or un-intuitive at first, but read the short manual and then tinker with it.
So here's a nice little piece with those two, to run in a loop when you just want to relax.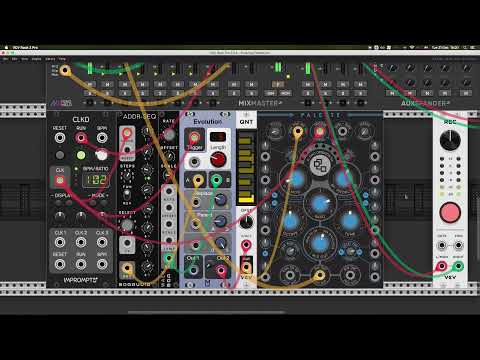 ---
The manuals: