I'm sure I'm not the only user who will tweak a module if there's something about the appearance that I think I could improve when it comes to my own personal tastes. In my case, usually just doing basic color tweaks, but I know other people are doing way more involved customizations. I figured it would make for a fun thread to share our custom skins.
I think it goes without saying that these should just be for our own personal use and not meant to be shared (so don't ask unless the developer is ok with it), nor is this thread meant to be a knock on any developers/designers and their skins. Just meant to showcase some customizations.
Here's my take on the MSC Hack Mixers. I couldn't figure out whether I preferred the colors on the Aux channels or not so I kept them for the smaller mixers but eliminated them from the larger ones.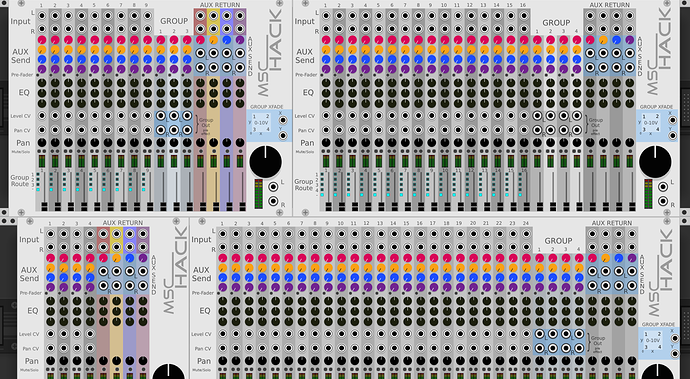 Please show yours!
mod note: Please follow the plugin ethics guidelines of VCVRack!
You may not clone the brand name, model name, logo, panel design, or layout of components (knobs, ports, switches, etc) of an existing hardware or software product without permission from its owner, regardless of whether these are covered under trademark/copyright law.