Hey, I'm just making a general post about the ES-9, since I noticed there are a few different scattered discussions here and there about how and why you might want it to work with VCV & a hardware setup.
First things first:
@PaulPiko made an amazing video tutorial on the subject that includes expansion module setup.
@Omri_Cohen made an equally amazing video tutorial on the subject that shows some nice patching examples.
Here's all the posts I could find about the ES-9:
My take on the matter: I just got one recently, and it was slightly confusing to understand how to setup the configuration tool at first. I think Omri & Paul have slightly different setups in their videos. I got it to fit my needs, but I still don't fully understand it, and this may be because I have zero experience with multiple ins/outs on an interface, and you have to manage how the hardware ins/outs and software ins/outs (in VCV) are working with each other to make round-trips with signals to have it mixed and all come out right on your headphones or speakers.
My personal goals and source of headaches: I wanted to create a setup that sort of matched what I had in mind buying eurorack hardware. I wanted to make a basic sound in VCV, send out to ES-9 and process the sound in hardware, then send it back through ES-9 to VCV in stereo and mix it down using a VCV mixer, then send the main outs to my headphones or speakers again using the ES-9. Then I needed to figure out the latency and signal delay my dry VCV only audio to match the stuff coming back from hardware. That was just for the audio part, but I of course also want modulation cv or sequences to be sent from VCV to ES-9 to hardware modules. Also, everything needs to be in time, and I don't want to waste my physical ES-9 outs on various clock divisions, and it would be cool to have some modulation too, so I got a Pamela's New Workout. I couldn't figure out how to get a stable clock into PNW, so I just send a X24 clock pulse from PNW to Clocked in VCV and it works amazing. I can physically hit the start button on PNW, and it starts, resets, and syncs with Clocked in VCV.
Here's my little setup default VCV patch with notes describing the signal flow of ins/outs. The outs from the mixer are going to my headphones & a Recorder module to record jams ES9_Default2.vcv (17.0 KB)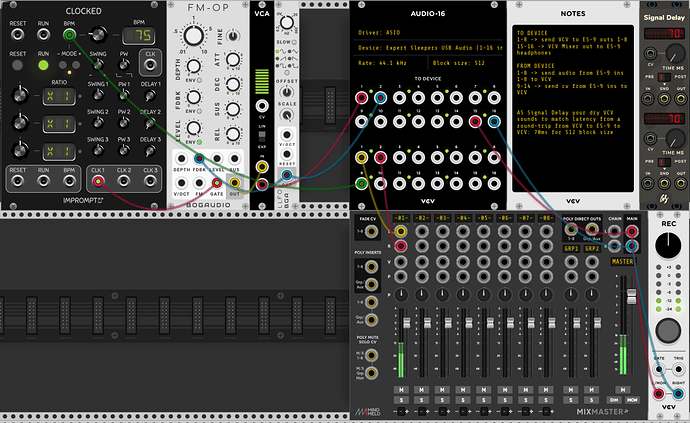 Here's the ES-9 configuration tool, I use html version: https://www.expert-sleepers.co.uk/webapps/es9_config_tool_1.0.html And here's the setup that works for me, for now, and the mixers or anything that says Bus or S/PDIF I am not using whatsoever. Everything else has a purpose that works for me.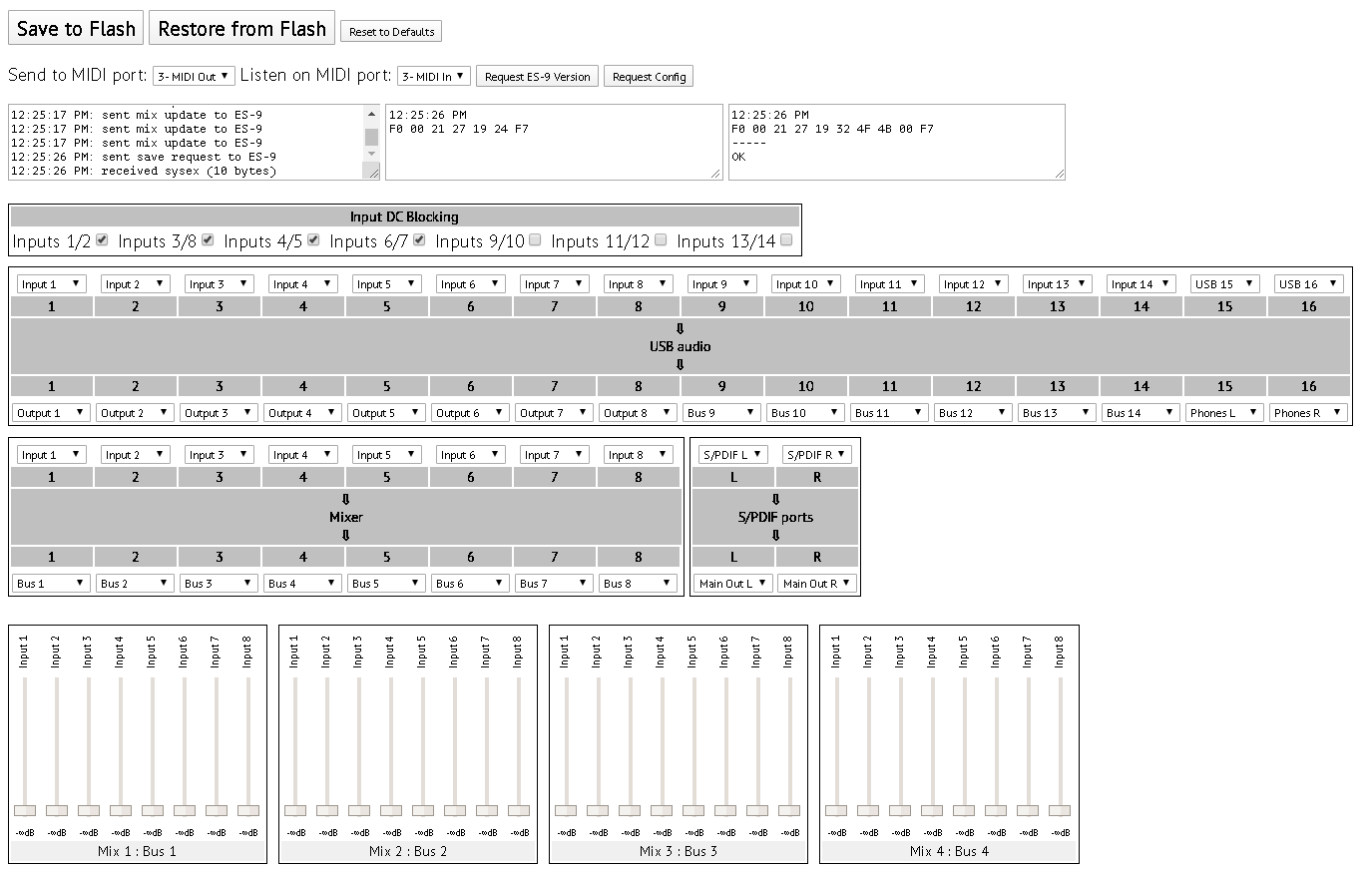 Here's what it looks like on hardware. I'm sending FM-OP audio and a LFO from VCV, out of ES-9 (out 1 & 2), into Mimeophon for a delay effect that is clocked by 16th notes (X4) coming out of PNW. The L/R outs from Mimeophon are going into ES-9 ins 1&2. PNW is sending a X24 to Clocked in VCV through input 9 on ES-9.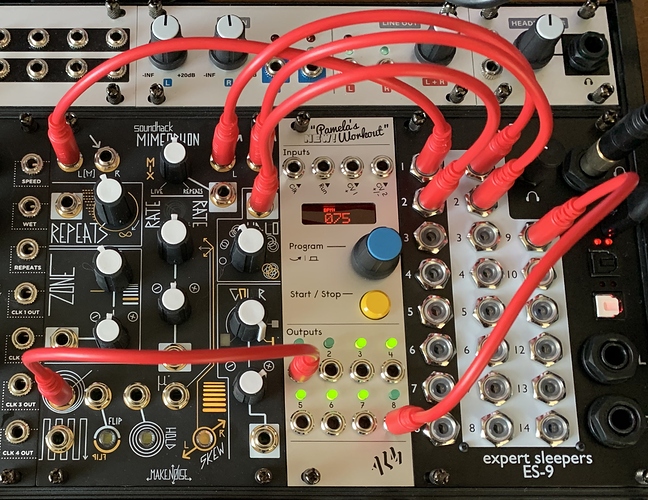 That's it for now, sorry for long post. My intention was to put this all into perspective and archive my thought process, and maybe help someone else navigate through the possibilities like Paul & Omri have for me.