Here's a first look at a module (my first!) called Drifter. I haven't actually applied any time to GitHub yet, though that will be the eventual channel for the source and distribution. In the meantime, here's a Google Drive link to the Drifter-2.0.0-win.vcvplugin file.
A friend of mine who loves words has offered to write the docs for this, but here's my current elevator pitch. "A function of In → Out that randomly changes (with constraints) when triggered."
The shortest way to explain it is this picture of this tiny rack: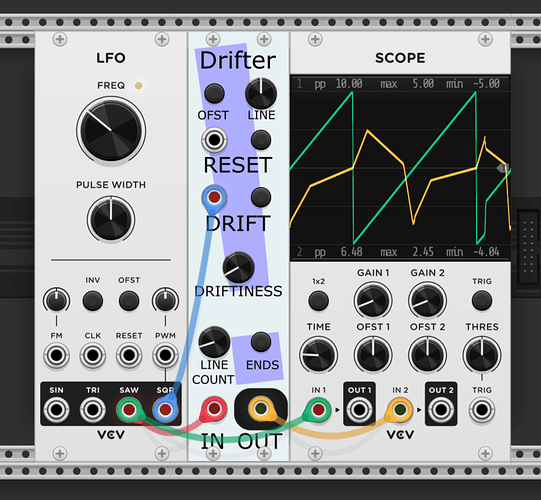 OFST - sets the range of the expected inputs and outputs from 0-10V or -5-+5V.
LINE - Selects from three different line types, Steps/Lines/Curves
RESET Input and button - Resets the line to its starting position, which is all zeroes. Also applies any change to LINE COUNT (below).
DRIFT Input and button - an upward movement past 2V will cause all of the points defining the output curve to change. So will pressing the button.
DRIFTINESS - the distance, in V, that each point can move in one DRIFT event. 0 locks the curve in place, ignoring DRIFT events. Higher values completely change the line each time, to the human eye, at least. (Hint: start small).
LINE COUNT - the number of segments in the curve, from 1 (just connecting the end points) to 30.
ENDS - End points stay locked at neutral position/end points drift up and down when DRIFT events occur.
Uses: Anything you wish was gradually changing - melodies, volume levels, waveforms, CV levels. Note that the use of a Saw wave as the input in the sample rack is just to better illustrate the idea of it being a transformation function; you can put whatever you like in.
Design questions that I'm considering (although, maybe not for the initial release):
Should there be three separate outputs (Steps/Lines/Curve) instead of just one with a LINE switch?
Make Driftiness an input?
Make Polyphonic? Not certain that people would want to apply the same function to multiple inputs, but…?
Spikiness: value for minimum X distance between points. At highest value, points just move up and down.
Add bias knob on the output? Or is this easy enough other ways so as not to bother?
Add an attenuator on the output? Or, again, are these so common that I don't need to?
Any reactions, thoughts, gentle finger pointing at obvious oversights, reactions to the UI…whatever, I'm curious.
To anyone who actually tries this, thank you!
Mahlen