I can certainly upload the patch, but it does use the Harmony and Arpeggiator modules by Squinkytronix that are not in the library yet. Do you still want the patch given this?
By the way, I was going to wire up the startup delay module so that you could do exactly what I was doing. Strangely, that crashed Rack and once reloaded, the RCM CV Momentary master reset button will also crash Rack when it is pushed. So I went to another of my variations of the patch that is known to eventually crash Rack and the momentary switch reset works fine. One of the reset crashes did have MixMaster in the log but I failed to copy the log to another name and it got written over. I really don't understand what is happening, but this is more evidence that there is probably a Rack bug as Marc and other have described. BTW, both the delay start and the momentary switch go into a Count Modula Boolean Or Gate A and B inputs and the OR output goes to the CLKD RESET. Here is a picture: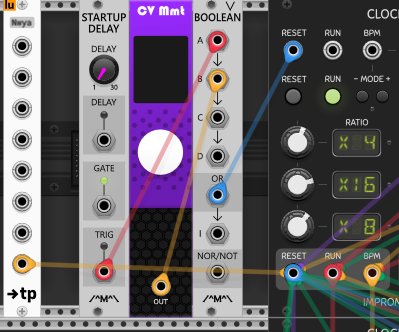 I will try to figure out why things are crashing after I reconnected the delay module to the patch.
Thanks for taking a look at this.