VCV Rack 2.1.2 has been released, including new module dragging behavior, ability to change cable color, audio/MIDI driver fixes, and more.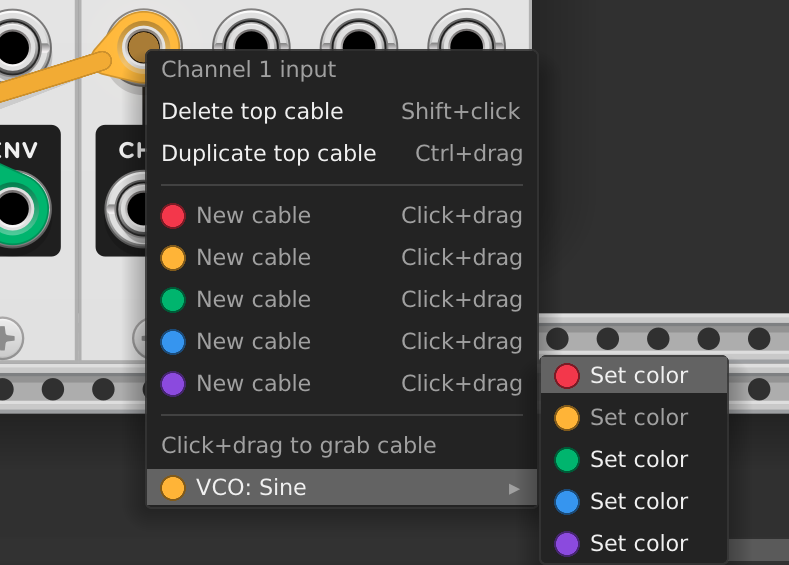 For some reason DirectSound just doesn't work (win7 sp2, focusrite scarlet solo 2) and when I changed it to WASAPI, it froze the VCV. After restarting the program it works fine though. For now. I could use WASAPI just fine, but I thought of reporting anyway
Linux: ALSA works, JACK works, pulseaudio (to JACK sink) horribly distorted, sticking with 2.0.6 for now, again.
Oh I like the Auto-Squeeze algorithm

I had same issue and same solution on Win 10.
I'm running Rack 2.1.2 standalone under Windows 11 with DirectSound with no problems in 24 hours.
Rack 2.1.2 so far on this here Mac Mini (M1, 16GB, OS: 12.4) runs without any issue.
Dope! Thank You!
I really like the experimental auto squeeze algorithm. I just wished "lock module positions" would disable the selection of modules all together. I tend to use that feature when I'm done loading and moving modules and just want to go into "performance mode" and play around with some knobs. What happens is I tend to miss some clicks and click the panel. This make a selection which prevents manipulation of the parameters.
Also really like being able to color any cable connected to a port. especially when there are a couple stacked up on top of each other, I can select the right cable and recolor it.
I have one problem with VCV Rack 2.1.2 release. Stellare Creative Suite and ML Quantum multiverse module update are still acttive in Library but I have it in my collection. That all for now.
Keep asking to update for me also…Windows 10 Pro…
Me too. Autodafe as well.
Yep, for me also. It was like this in 2.1.1 also.
Do these plugins that keep saying they have updates follow the new spec for version numbers? FWIW the versioning works fine on the motley crew of modules I have installed.
I think they all need the fix that was done in Squinky Labs and others, regarding reversing the init and manifest-load sequence. But Andrew never gave any public guidance about it so they might have completely missed it.
ah, ok. Luckily for me I didn't have to deal with that. Don't even know what the issues was. When I looked at @robert.kock 's repo for the update I only saw the version number get kicked up, but it sounds like there was more involved.
Oh, I see now. He removed some code that must have been in there from 0.6. Ok. Just looked, that same code used to be in the fundamentals, too, back in the day.
Is moving multiple modules by Ctrl-Mouse-Drag completely left out from Rack v2.1.2? I'm changing from v2.0.6 and I used this feature intensively.
Just want to know if I should get use to the Shift-Mouse-LeftClick and Drag solution.