The new VCV Library is now in public beta!
This website allows you to easily search for individual modules of a particular tag, brand, or license type. For example, want to list all sampler modules? Simply select the "Sampler" tag.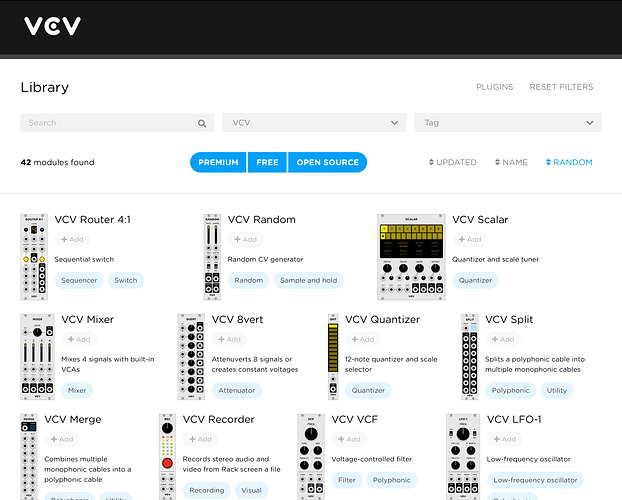 It is not yet possible to add modules or subscribe to plugins from this website until Rack v2 is released. Use the old VCV Library to add/purchase plugins in the meantime.
Plugin developers:
Please check that all information is correct on your plugin page (e.g. https://library.vcvrack.com/Geodesics) and module pages (e.g. https://library.vcvrack.com/Geodesics/Energy). If anything is missing, incorrect, or could be organized better, edit your plugin.json file and publish an update through the usual channels (library issue tracker for open-source plugins, contact@vcvrack.com for proprietary). In particular:
Make sure each module has all relevant tags.
If your module is an authorized hardware clone, use the "Hardware clone" tag. If the name of the module/plugin is different than the hardware unit, add the hardware's name in the module description. It might soon be linked to from its ModularGrid entry!
Make sure the plugin brand is correct. Brands are prepended to module names to produce a "full module name", so if you'd like your module's full name to be "Andrew's VCO", set the module name to "VCO" and the plugin brand to "Andrew's". e.g. The brand in https://library.vcvrack.com/Autodafe-REDsFREE/TRESAMIGOS should be just "Autodafe".
Make sure the module name is just the module name. e.g. https://library.vcvrack.com/NYSTHI/PolyDelayAttackHoldDecay should be just "Polyphonic Delay Attack Hold Decay" or "POLY DAHD".
Make sure all URLs work and the author email address is up-to-date.
If you'd like a description on your plugin page, add a plugin description.
Of course, test your plugin in Rack before releasing an update.