Hello world
Finally it has arrived, another update for my collection of modules for VCV Rack! It brings a few new modules and a long list of new features for existing modules. And some bugfixes, of course.
I like to start this announcement with a short clip from @xandermogue of the module HIVE: He kindly contributed this one to my plugin some time ago, it's another quirky sequencer in the world of VCV Rack based on my module MAZE

---
New modules
Well, look at them!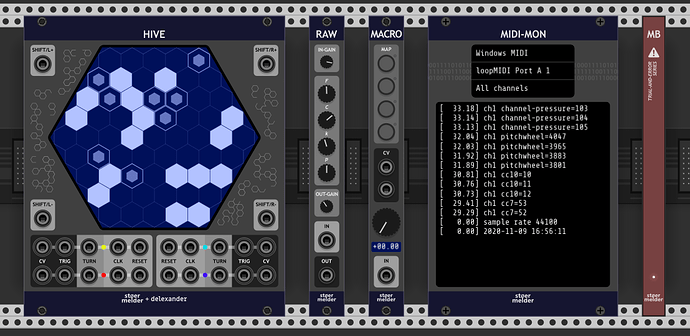 A special mentioning needs module MB which previously was available in my experimental plugin PackTau, not available in the VCV Library. I struggled for quite some time to decide if I should release this module to the VCV Library as it is still experimental and it is uncertain if it will work with Rack v2. But at this point I don't think we are going to see Rack v2 released in 2020 (considering this schedule), so I moved the module from PackTau to PackOne…
---
Fixes and Changes
The rest of the changelog…
---
Final notes, again…
I updated most of the manuals of my modules and this time I tried also linking directly into the manuals when a feature has been updated or added (see above in the changelog). If something is unclear or not explained very well feel free to ask…
I also have some unfinished modules on the backlog and even more ideas… but right now I'm focusing a bit more on making music instead of making modules. Hopefully something will see the light of day in a few weeks


So, and now… go and make some music!
---
If you like what I'm doing and and want support my work you can donate: PayPal.Me