explains why everything's so changeable these days
do egg cartons actually do something with the audio or is it some kind of modern art?
amazing studio
I think it's a wink to an era where people covered their walls with egg cartons (many more or them). I have a feeling it wasn't that effective back then - now it could only be a joke.
Judging by David's question, it seems to me that it is functioning reasonably well at its presumed purpose of being just a little baffling!
I hope you'll pardon the mild pun, Seth, I couldn't help it

It looks like a great space, full of many well loved looking instruments! Very cool to get to see inside people's personal creative spaces.
And, to David's question, I think the use of egg cartons here seems to mirror what little I've read about baffling, I've been in rooms before and after a few sound dampeners were added, and beforehand you can hear a lot of harsh echoes while you're speaking and after there's a more muffled, softer feel to the sound of the room. If I recall, the treatment of the corners there looks like it probably does confuse the sounds a little.
The room being full of lots of equipment probably helps the most, but if you've got some big flat surfaces that you're getting slap-back reflections from that you don't like, you can break up the surface a little with some different objects.
One way I imagine it is the difference between ripple reflections on the surface of the water on a smooth-walled swimming pool, vs reflections on a pond where the edge of the water is is a stony shore. The stones will reflect the energy of the waves out in all different directions and at different times, and create a more diffuse series of patterns on the surface of the water.
On the other hand, sometimes very live and responsive flat surfaces can be pleasing, which is why singing in the shower is kind of fun.
When I first moved to san francisco, I was living briefly in a tiny porch room while I got my bearings, and one of the housemates loved singing in the shower. He would fill the whole apartment building with his voice. As far as I knew, he never sang out loud any other time.
But, anyway, it's my impression, and Squinky or others please do correct me if I'm giving bad advice, that you can go as deep as one wants to on the 'science' of studio sound baffling. But the basic idea is that you essentially just stick things on the walls and in the corners until the space no longer offends your ears and has as much or as little personality as you desire for your creative purposes.
I'm not sure how well they work from the perspective of pristine audio. But I can say that if I play an instrument outside the room and step into the room, all audible reflections are cut off. But, as Dan said, it's probably all the other stuff that does most of the dampening.
It's fun during Zoom calls to see how long before someone asks "are those egg cartons on your walls?"
In the early 80s my mum remarried. My then stepdad was an oscilloscope engineer who had raided his company of sufficient packing foam to cover the walls of his spare bedroom. This is where he'd go and scream because he was a believer in primal scream therapy.
For a couple of years that was my bedroom and I kept it, it was handy for letting me badly play loud electric guitar without the neighbours getting too upset.
This was a long time ago. She's now on husband number four.

forgot to add… and I still play electric guitar badly
plug into enough delay and reverb and pretty much anything sounds good

My dad had a studio in our old house's basement. I don't remember it that well, but I do remember that it was quite large and had a lot of equipment. Unfortunately, my dad passed away when I was 3, and we sold the house and moved to another city. now, when I'm already the age my father was when he had me, I want to build a small studio too. I don't know much about music, but I think it will make a nice retirement hobby, and I will have more time to dedicate to it. But I want to start now. I've already ordered a large L-shaped table from eurekaergonomic.com. But what about the musical equipment? What would you suggest buying in the first place?
Completely reorganised my eurorack setup. It's pretty scary that I started with about three modules in a Behringer 104 skiff in January this year. Even this isn't all my modules or racks, but it is most of them and at least the ones I want to use and finally all fit on my desk (just about).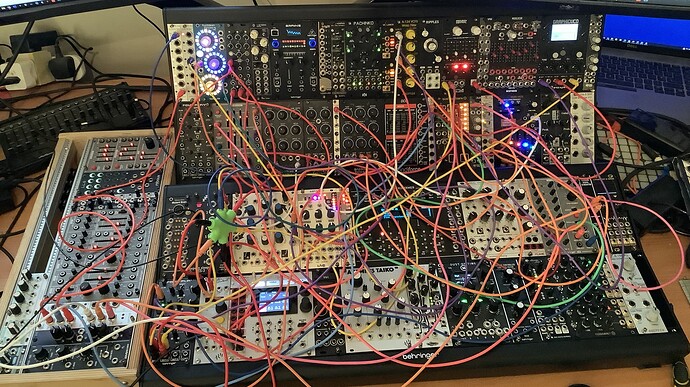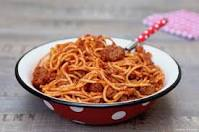 Loving it!

Yeah, I refuse to use sensible length cables and any sort of patch theme Big ol ball of mud for me

Eurocrack…

Just wait until you are two years in and learnt to solder too

I see you've got an AtovProjcet 16n in the back corner. I just got a back in stock notification on the kit today. Are you finding yourself using it much or not?
I did use it a lot for a bit, but then it got squeezed out of reach on my desk so now I use it mainly as a 16 note sequencer