More emergency toilet roll!
Kitchen towel, for industrial size spillages, typically courtesy of the cat

I don't have a Zappa to my left, but I do have a Gandalf. At my job before retiring, several coworkers called me Gandalf

Otherwise my "studio" totally surrounds me, except for a very narrow path in and out to my right.
I do have kleenex on my desk and I no longer have the cats to blame.
oh my, I am glad I am not there yet


Alright! The mad scientist's lair.
This was my first panorama picture with my iPhone 13. It is 270 degrees of the room. That computer at the upper right is my 2011 NVIDIA 3 Tesla supercomputer with a smokestack on top to try to eject the heat and noise. VR rig is hanging between the windows, above my Alienware Windows tower and iPad Pro 12.9". Like I said, everything is connected to everything else, bidirectlonally. Several goodies are obscured by stacks of physics papers that I used in creating my 10D string theory Calabi-Yau manifold model and simulation last year that runs on the GPU as massively parallel code and talks to Unity game engine which does the actual 2M point particle cloud display with stereoscopic 3D VR with IR eye-tracking control. Everything is recalculated per frame but still runs at decent video frame rate, all running on the Alienware PC.
I think you get the Minimal Space Design award! Not even speakers at work, but I assume the toilet paper is for a future Yamaha NS-10m purchase.
Have fun patching! That's what it's all about.
There are speakers, but they are hidden.
In the meantime, you could probably emulate his entire setup in VCV Rack

This is my computer & home studio arrangement (in living room). No way to do better.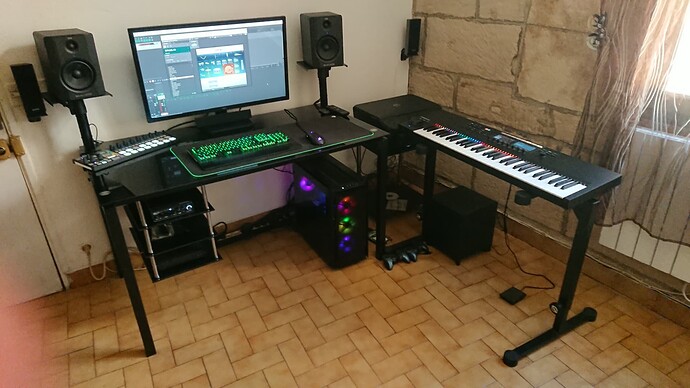 Computer: i9 9900KF, 32GB RAM, 8 TB SSDs, Corsair case, 32" Iiyama 1080p screen…
N.I. Komplete Kontrol S61 MK2 keyboard, on K&M stand.
Arturia BeatStep Pro (Black Edition) MIDI controller.
Steinberg UR22C audio interface (USB 3) to pair of M-Audio BX5-D2.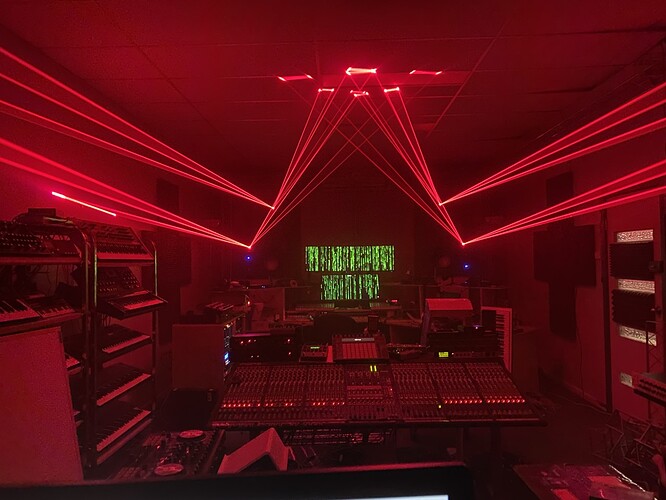 Studio #1, full of hardware (can't see it too well just because I'm doing a laser-flex), but all that I've been engrossed with since getting started with VCV in January, is VCV.
Studio #2, is my humble bedroom studio with a humble rig of Euro and Buchla, but all that I've been engrossed with since getting started with VCV in January, is VCV.
Much love to EVERY developer that has invested their time in this platform. I truly love it!
Looks like your studio has been assimilated by the Borg

Can we see it with green lasers for the full effect please?
Not yet we are in the delta quadrant
A true minimalist would only use the computer keyboard and the internal speakers, that's enough

jeezz…