Heyoes!
After exploring VCV for two weeks or so, it's time for me to start getting my money's worth out of the whole 0 Euro I invested into it so far, and make full songs rather than small sketches with it.
In general, I use Reason as my DAW to make music. I'm not interested in using VCV as a fully self-contained system, I want to integrate them together. My ideal software would be Reason, with front-patched VCV modules living directly in the rack. Once the official VST is available, I hope to get close to this ideal.
For now, I'm using loopback devices on Windows: VB-Cable to create virtual audio channels, Loopmidi to create virtual MIDI channels, and ASIO4All to create virtual audio devices combining multiple real devices. A bit wonky, but reliable. By contrast, Bridge has many performance issues for me, and Reason doesn't support sending MIDI to separate channels, so it is hard to integrate, and VeeSeeVST agreed not to compete against the upcoming paid VST, so while it works well today it has no future.
Let me know if there's interest in documenting this loopback setup in more detail, but there's not much more to it, just install the software and pipe it together.
So! Here's a little squelchy abrasive techno tune I quickly banged out today to put VCV to use. All the synth voices come from VCV, the drums are done with Reason, and the effects are a bit of both.
It's really just four straightforward monosynth voices done with VCV, I still have trouble getting very musical results when trying too many weird patching ideas at once.
The Banquet of Mutuals Turns Into Bi v. Pan Discourse and Dessert is Canceled:
No video, only a Soundcloud link, because of my setup I can't easily record audio and video at the same time. But here's rack pics!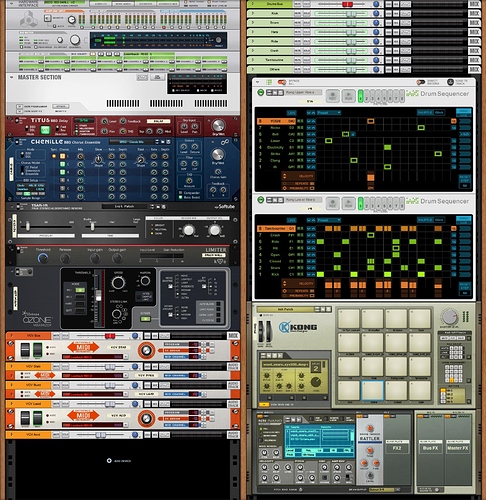 The two programs sure look like they're meant to be used together, don't they?
Playing around with VCV naturally pushes me towards crafting harsher sounds, I'll have to try to do something different in a future song.