Ok, I will check it, thanks.
I will test Laika for proper working, thanks for reporting
Beta-5.3, stabilisation Update:
It works way better and seems to be ok. But in seldom circumstances it crashed when used as VST, I am not sure if this is relating to my local machine here, what are your experiences?
In this version non of the lately reported issues were fixed, it just handles the UI crashes.
Thanks for testing!
No immediate issues to report in Studio One 5, Ableton, Bitwig, Cubase 12 or Reaper on Windows 10. I loaded the vst, added each module. Closed and re-opened each project. On my machine, there were no graphical glitches. Things are looking up.
Hi Patrick.
Not fixed - graphic issues.
Windows 10 Pro (22H2), Bitwig Studio 4.4.6 (also from REAPER 6.73), VCV Rack 2 v2.2.2 - VST2 or VST3.
It happens when reopening VCV Rack window… but randomly.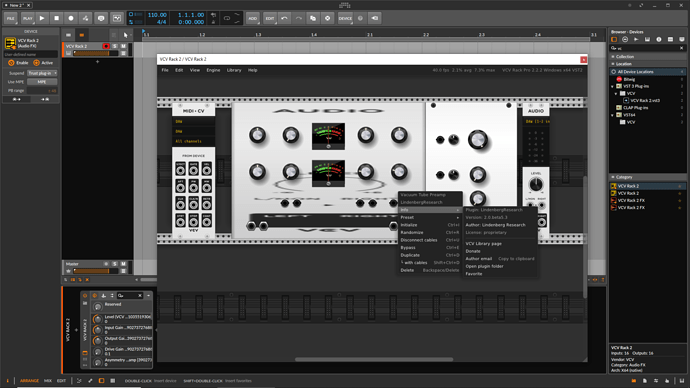 EDIT: If I close & reopen the window 2, 3 (or rarely 4) times, the GUIs become okay again.
Out of curiosity, could it relate to the graphics card? I'm running an nvidia card.
Yep, I'm running an NVidia card, too (Asus RTX 2080 Dual OC, w. 8GB GDDR6), recent driver (527.56).
Beta 5.3 seems better (more robust), it's more difficult (compared with Beta 5.2) to reproduce the GUI issues, either from Bitwig Studio or REAPER (VCV Rack 2 VST2 or VST3).
Instead of yesterday (when I've posted the image, above) today I can't reproduce the issue!
This is really nasty… I added some sort of guard to the code, maybe it works now better. I tested it here on my Mac and PC with opening it up to 30-50 times in Bitwig, nothing went wrong…
It is just a litte thing left to be fixed, then it could go productive… I hope it works better now!
Thanks for testing and have a nice weekend!

First impressions are that it opens faster. No initial issues in Reaper or S1 on my system.
Hi Patrick, have done additional tests from Bitwig Studio 4.4.6, VCV Rack 2 v2.2.2 (VST2), lastest Beta 5.3 (posted 2h ago), Windows 10, I confirm I don't have the GUI issue.
Have a nice weekend too

That sounds optimistic! Thanks guys

no gui issue here that I can see. One issue tho on Bitwig Project reload Laika will not output sound. deleting the modules and performing an UNDO in vcv. Puts them back into play.
Bitwig 4.4.6 / Rack 2.2.2 / VST3