Experiment with hybrid system for create generative sounds. Using VCVrack as automaton sequencer (software) to trigger sounds on eurorack modular synth (hardware) in real-time
In this setup : MIDI from VCV Rack convert by 'MIDI to CV' module, to ericasynths pico quant for use pentatonic scale, then trigger sounds on resonator module based on rings, and to granular audio processor for add textures
Finally I updated VCV Rack to v2. Still remember, I'm using this open-source virtual modular synthesizer since 2017 / v0.
I contributed one track for first compilation album of VCV Rack : Switched On Rack Vol. 1
How was March 8th made? Reminds me of infinite body.
Oh it used simple patch, Jazzmaster guitar sound (via audio interface) to clouds (modulate the pitch)
Exploring glitch breakbeat, ratchet sequence, acid bass, and generative melody with modular system in VCV Rack v2
microtonal jam with fast bpm
All sounds made with modular synthesizer use generative patch (VCV Rack) and field recordings. Tuning system, inspired by pentatonic pelog scale from Javanese gamelan.
Exploring microtonal melodies use "surupan melog jawar" scale in open-source modular synthesizer with VCV Rack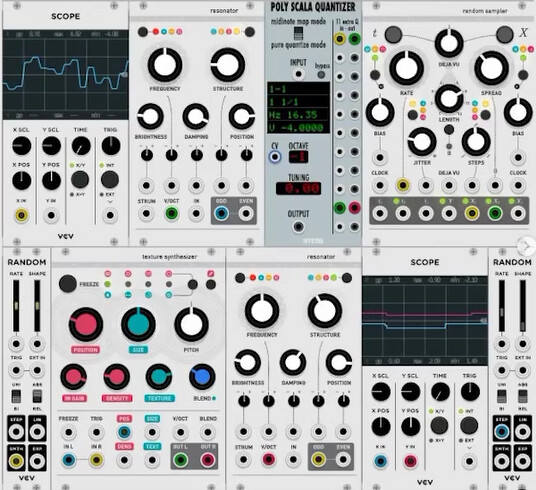 are you sure? have click "audio" icon on screen?
You patch is impressive…compact and powerfull
Where is the sequencer?
Thanks, yeah my vision how to create simple / less is more, but still powerful.