Algomorph, my module for connecting, storing, and morphing between FM algorithms, now has a working display unit installed and so it's moving from alpha to beta.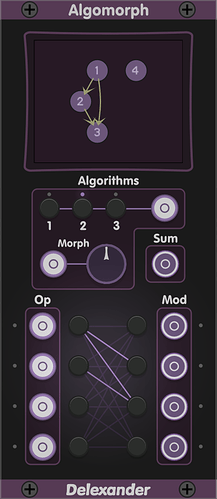 If you caught the alpha release announcement, mostly this beta is about is the kickin' new display. Watching algorithms morph is fun! For those interested in technical details, the 1695 supported algorithms (at least one carrier, no feedback) were enumerated as directed graphs in dot language. These were then rendered by Graphviz to SVG files which were processed by Beautiful Soup in order to create CSV files containing all of the relevant coordinate information extracted (algorithm id, node locations, bezier curves for the edges, and polygons for the arrowheads).
Besides the display there is also one other rather significant change, which is the addition of a trigger input for skipping the "base algorithm" one to the left or right. By patching a clock-synchronized LFO to the Morph CV input and its clock to the Advance trigger input, circular morphing between the three stored algorithms is possible. Here is an example using the ZZC Clock (and a Bogaudio Offset to bring its Phase output down to +/-5v):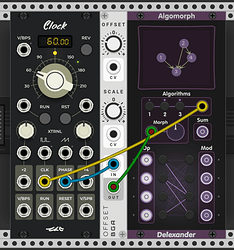 Also added since the initial release is a "Ring Morph" option which allows for ring modulation effects when an audio rate signal is patched into the Morph CV input. Polyphony is also supported, however there is no SIMD yet so the performance under heavy load isn't great. Improved support for polyphony is planned for the first major update after the module exits beta.
If you are totally new to Algomorph, here are the details:
Algomorph is a VCV Rack module for constructing FM algorithms using up to 4 operators.

It is intended for use in conjunction with oscillators capable of linear through-zero FM such as Bogaudio FM-OP, Nysthi µOPERATOR/TZOP, Squinky Labs Kitchen Sink, and Valley Audio Terrorform.

It allows for reconfiguring an algorithm using only button presses rather than having to rewire cables.

More interestingly, it allows for storing up to 3 different algorithms which can be instantly recalled by pressing the buttons labeled 1, 2, and 3.

Further, it features a Morph knob and CV input which allow for cross-fading between the stored algorithms.

Explore the space between your FM algorithms!

Getting started:

Connect the output of up to four operators to the Operator Inputs.
Connect the same number of Modulation Outputs from Algomorph to the linear through-zero FM inputs of the operators.
Connect the Sum output to your audio device or a mixer. This output delivers the sum of all carriers.
Press an Operator Button followed by a Modulation Button to connect one operator to another. Repeat until you have built a desired algorithm.
Connecting an operator to its own modulation output will disable the operator's modulation output and remove it from the Sum output for that algorithm.
After you have finished building your algorithm, press Algorithm Button 1 or 3 to build new algorithms.
The Morph knob allows for cross-fading between the stored algorithms:
12 o'clock is the currently selected algorithm,
7 o'clock is one algorithm to the left, and
5 o'clock is one algorithm to the right.
The CV input can also be used instead of (or in addition to) the knob, accepting +/-5V.
Builds for Linux, Mac, and Windows are available. To install one of these, follow these instructions.
I'm very grateful for all testers! Let me know if it makes obscene gestures at you or picks up late-night AM radio broadcasts. I hope to release this module in the library soon.