Aepelzens Parasites v2.0

Well here we are, another oldie but goodie set of modules dusted off and presented clean and fresh for 2023!
These are from the v0.5 days in 2017 and some of you, around then, will remember them. Sadly not even given the v1 treatment.
The three modules are:
Cycles - based on Tides [New for v2: I have added lights for the quantizer which mimics the hardware and a selection knob with tooltip.]
Wasp - based on Warps [note: I may change the name to prevent clashing with the Doepfer Wasp filter - advice/ideas???]
Tapeworm - which is the delay from Warps
These use the Parasites firmware by Matthias Puech mqtthiqs (Matthias Puech) · GitHub
There are two other Parasites modules: Clouds, which has been done by @adbrant as Parable Instruments and Frames which has yet to appear in VCV Rack. I might get to it myself one day, I may need help with that as I'm not a big Frames user and am still learning how that module works under the hood.
Panels: Cycles has the v0.6 panel which was converted to SVG from the PNG original. The others I did myself, inspired by ideas from an AI called Looka.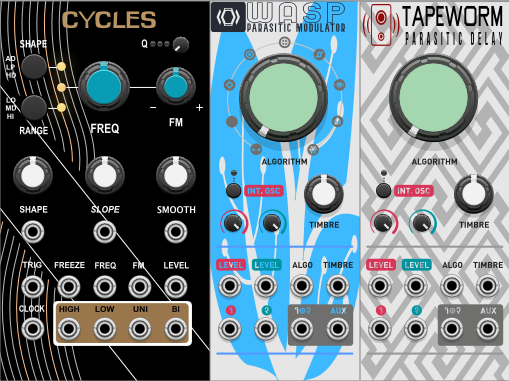 I have kept the original README @ GitHub - SteveRussell33/AepelzensParasites: Mod of Audible Instruments Modules for VCV-Rack with Parasites firmware which links to the firmware manual.
Enjoy and I look forward to your comments, love and adoration!
Have a good weekend, cheers!