Hello everyone,
I've been doodling around with creating my first VCV Rack module for a little while. I think it's ready enough to share with everyone to get your feedback!
Enjoy!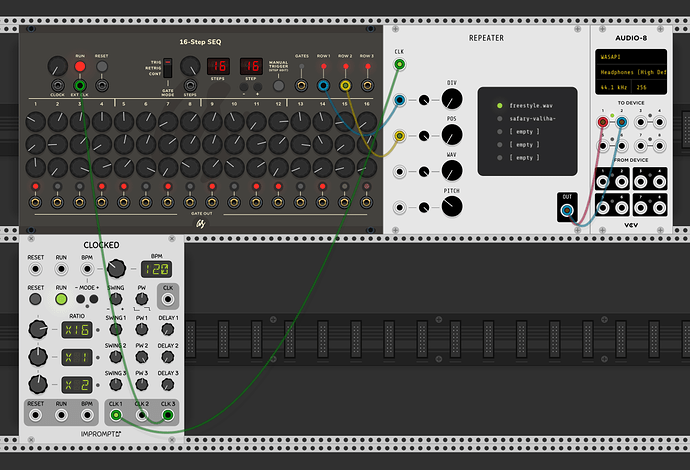 Inputs
CLK - clock input (very fast clock)
DIV - clock division. Controls repeat (stutter) length
POS - sample playback position
WAV - selects between 5 samples that can be loaded via the context menu
PITCH - yep, pitch. Can be used to play samples backwards

Minimal Usage
Reproduce the patch example that I posted in the image above.
Right click on the module to load a .wav sample. I suggest that the sample be around 2 to 5 seconds long.
Tweak the POS and DIV knobs!
Please note the following
I do intend to update and customize the front panel design eventually.
I intend to make a companion x/y controller module similar to: https://youtu.be/1pFrvNx5oAc
My code is based on Clément Foulc's PLAY module. A big thank you to him for posting his code. Also, thank you to everyone on these forums for your help!
In order to try with this module, you'll need to compile it (make install) from my source code. Of course, eventually I hope to submit it to the VCV library. It will be free and open source.
Let me know what you think!
Cheers,
Bret