ok … thanx … so I guess I wrote in the right place

…
Probably best to create a new topic so it's gets seen by the powers that be. Call it something like "My Focusrite interface is not recognised in V2 (but is in V1)"
Mine works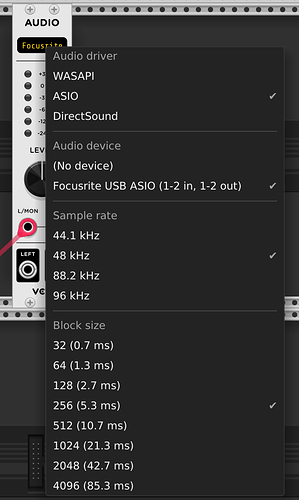 Windows 11
Focusrite 2i2 Gen 1
driver Focusrite_Usb_4.65.5.658
VCVRack 2.git.042a9ce0
I noticed that focusrite ASIO defaults to block size 192 on a fresh install. Rack2 changes the block size to 256.
Hi and thanx for reply … ok … I tried and this works for me, but I'll probably have to rewrite all my previous patches in notepad if I want to open them in the future. It was better if the DirectSound driver worked, if it can already be selected in VCV.
I can select directsound - but it doesn't sound right - crackling - like a sample rate mismatch.
In windows 11 sound settings, I can only select 16 bit 48000Hz or 24 bit 48000Hz for the Focusrite. I didn't see that before. Everything else sound ok - perhaps using WASAPI.
In Rack2 - Focusrite sound is OK using WASAPI and ASIO - but Directsound is crackling.
BTW, the new .vcv format is binary - I don't know of any text editor for it. Perhaps some incanation of unzstd and tar can open it. I don't like binary patch files.
tar --use-compress-program=unzstd -xvf patchfilename.vcv
extracts "patch.json", which must then be tar'ed and zstd compressed to .vcv to load in Rack2

hmmmmm …
WASAPI - sees my card, but when I select it, the program crashes … only the internal REALTEK can be selected.
ASIO - Asio4All only works. When I choose the Focusrite USB 2.0 Audio Driver (1-2 in, 1-2 out) directly, the text pops up: Device sample rate could not be changed becouse the following applications are playing audio. But no sound or music or web have played.
DIRECTSOUND - sees my card but I can't select it at all. here also, only the internal REALTEK can be selected.
please discuss the driver issues here:
Oct 9 at earliest: Rack 2 Studio Edition pre-release licenses available to plugin developers and media.
So… in potentially as little as 7 hours, 11 minutes and 15.34 seconds, could we developers be getting our grubby little hands on a Rack 2 SE pre-release license?
Not that I'm counting down the time or anything…really…
We're working on fixing more bugs before making Rack Studio Edition available to developers and media. We don't want to send developers a version with bugs that will interfere with their testing, and we don't want media to write reviews about bugs they find in an early version.
OK… so how many more seconds will that take?

I guess sweepstakes for the number of seconds would be offtopic in this thread?
You have an amazing ability to sum things up and express them so succinctly and precisely… it's truly a gift.

2.5 seconds, anything new?
I realize it may be touchy, but I wonder if lettings plugin devs have access under a time-limited (until media is given a copy) NDA would help find bugs faster?
I was just thinking exactly the same thing… devs would just report any issues back to base, rather than write about them in the media…

I had already had a comment misconstrued on Facebook (imagine that) today. I didn't want to seem like I was picking on anyone.
I gave rack2 a try, and I managed to run 2 audio modules on 2 different audio cards simultaneously on win10 (my linux pc is not available at the moment)

After many attempts and crashes…now it runs perfectly

no audio glitches on both cards at the same time, no dc stuff…
The first one is an USB audio card, wasapi driver, master audio module on, dc blocker on, at 48k with block size=128
The second one is the ES-9, asio driver, I had to select Expert Sleepers from the menu (not Asio4All expert sleepers…otherwise it crashes), 48k with block size=256 (before running rack2 I had to remove the flag from the expert sleepers' control panel "safe mode" and set the correct block size before running rack2)
It also works at 48k (64 on the usb card / 128 on the ES-9) and 96k (256 on the usb card / 512 on the ES-9).
If I choose the ES-9 as master audio module, the other usb sound card outputs glitches, I don't know if it depends on the quality of the gear…
but I can definitely say that the wait was worth it

seriously though, no pressure