Hi everybody !
First, Thank you a lot Pyer for those videos, they are of incredible value, your work is really really appreciated ! The recreation of the MARF with basic modules got me lost a few times, but in the end I learned a lot and it is working !
I noticed something : when using the offset from the atenuverters (befaco's ones) the playhead started with an offset but did not play the full sequence, for exemple, with a 5V offset it would start at the middle, reach the end and stall there for half the phase duration, then start over at the middle.
Did I do something wrong ?
Anyway I came up with a solution for the playhead position offset and thought I'd share it here, even if just to remind our Official.Buchla.In.VCV.Provider ( @synthi ) than a "real" 248 would be noïce

.
Instead of befaco's atenuverters I used this :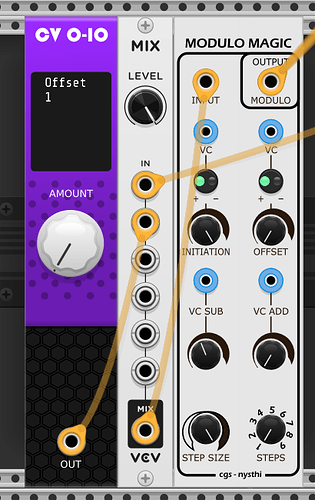 And it seems to be working, the Offset knobs offsets, it's value is mixed with the original phase, and "Modulo Magic" works its magic and keeps it going 0=>10V without stalling, stoping or anything.