Hello world 2021
Seven long months since the last update of PackOne.
Why so long you ask? Various reasons.
One of them, and I'm honest here, because I was waiting for Rack v2 to appear, at least its source code so I can check how much work it will be to port things over. I stopped waiting, for the moment

.
Another reason, I like writing code but avoid writing manuals. But I won't release any new modules or features without any basic documentation, at least. Manuals have been updated, almost all new features are mentioned and explained with a few sentences. Short video clips have been added wherever it makes sense. Check

.
One more reason. I tried concentrating on making music instead of writing code for more modules. I actually mentioned this after the last update was released in November and well, I did make some music. But not as much as I could have, not even close. I'm working on that but this might be a story for another time, I guess

.
Back to PackOne. As some of you might know CV-MAP was my first module for VCV Rack. At the time, Rack v1 was on the horizon and MIDI-MAP was pretty new. I took MIDI-MAP's code, made some adjustments, added two polyphonic input ports and from that point on modulation by CV of any parameter was possible. Theoretically.
Since then many things have changed, CV-MAP almost disappeared from patches and was replaced by µMAP whenever someone needed some modulation, for good reason, it is much easier and faster to use.
In the new update of PackOne I revisited CV-MAP and brought its workflow to the next level: CV-MAP got an expander "CTX" = (context) which adds mapping to the context menu of any parameter. It's now much more obvious how to find use for CV-MAP once set up. Artem did a nice video demonstrating its possibilities, thank you Artem! Sure, "wireless modulations" aren't for everyone and are not supposed to replace cables, by any means, but I think it is nice to have the option.
And: MIDI-CAT got also an expander "CTX" which works almost the same way!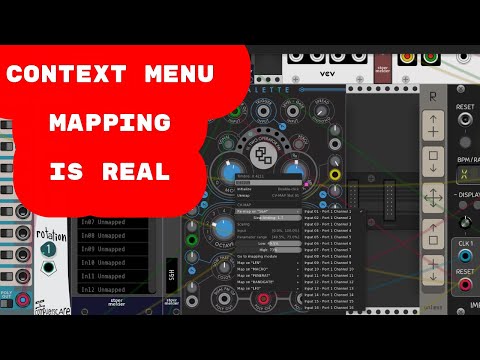 ---
Here it is, the very long changelog for the latest update of PackOne which just hit the VCV Library.
New Modules
Fixes and Changes
---
Final words, as usual
If something is unclear or not explained very well feel free to ask… also, don't be afraid telling me something isn't working as expected. I spent some time with testing but I'm sure there are some bugs I did not discover.
So, now… have fund and make some music!
---
If you like what I'm doing and and want support my work you can donate: PayPal.Me