I have started working on a new module called ARENA. It is inspired by Sugar Bytes' Aparillo softsynth and I thought it would be a nice idea to have something like the "Orbiter" in Rack as a module.
The principle is quite simple: 8 inputs and 2 outputs are represented as objects in 2d space. Each input signal has an assigned radius. If the output object is within the radius of an input object the signal is mixed according to its euclidian distance between the objects. You can say it is some sort of 2-dimensional mixer. The real fun begins if you start modulating one of the various parameters like position, radius, input amount…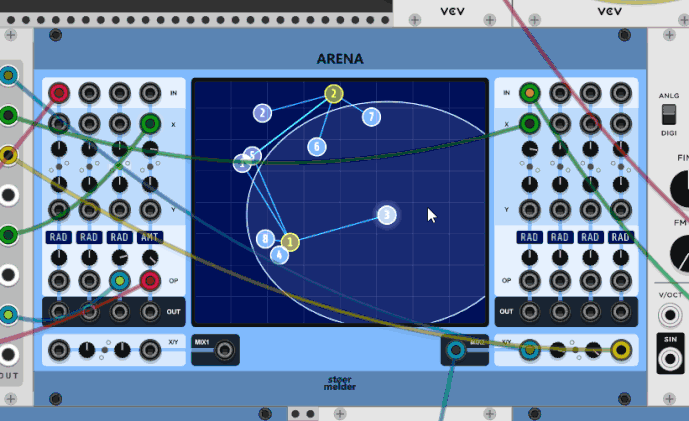 The implementation is coming along very well but it should be considered unstable and unfinished code. I'm starting this thread to collect some thoughts and ideas that could influence the further development

I'm curious what you think about it!
You can test ARENA if you download the latest build from my GitHub-repository and following the manual for installing plugins outside the Library.
https://vcvrack.com/manual/Installing.html#installing-plugins-not-available-on-the-plugin-manager