Yeah, I picked up this idea several years ago when I first been using Lemur
Arena is really interesting and can produce pretty noises

although it might not be the intended use

see this Strip preset (just plug the Tangents out into a mixer ), where Caudal ,odulates Arena, then through Tangents modulated by 8LFO, when you play a bit with the Tangents and 8LFO settings there are some nature sounds possible.
! please rename the file to: Aren…02.vcvss I couldn't upload it in this format. !
Arena_Whitey_Nature_02.vcv (27.8 KB)
Have you checked out JW Modules: Bouncy Balls?
Jupp, already used it

Ok, this is just crazy

For each of the mix-ports in ARENA you can draw up to 16 motion sequences (besides controlling x and y by CV) that can be addressed using SEQ and driven by PHASE. I also added some parameterized presets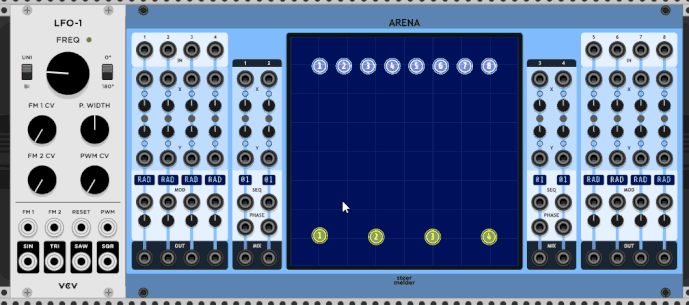 I look at the picture a few minutes… is it supposed to move ?
The picture? Yes, it's an animated gif, about 30 seconds long?
I thought so, does it move in your browser ? I'm on FF and it sometimes FFup. EDIT Reloaded and here it goes love the tornado. Was already using the record function and loved looking at it. But these presets are cool.