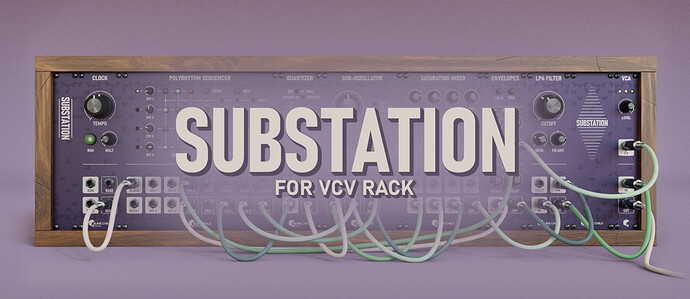 Hello! I'm extremely excited to announce the release of my first module, Substation!
Substation is a collection of modules designed to create a subharmonic, polyrhythmic synthesis toolkit.
Craft rich harmonic soundscapes, powerful chords, and evocative harmonies. Explore deep polyrhythmic patterns and melodies that evolve over time. Move from gentle analog saturation to unrelenting distortion. Carve out dynamic articulations ranging from percussive stabs and punchy leads to lush pads and fluid drones. You never know exactly what you're going to get with Substation. Unleash your creativity, and let the inspiration flow.
Check out the website for features and samples, or search for it on the VCV Library!
Please send me anything you make with Substation! I'm happy to feature your patches or music on the website too!