I'm new to this and I've had fun building all the examples here and on YouTube. I wanted to try to synthesise real instruments and after reading an article in Sound on Sound I got an idea for a patch. Although I've had good results using Vult's Basal and Slap, I wanted to build from first principles using basic modules.
This is the idea - each key on a grand piano hammers a set of 3 strings; a high, a medium and a low string tuned an octave apart. These are slightly out of phase with each other.
The 3 XCOs used here represent these 3 strings, each tuned to C an octave apart and each slightly out of phase with the others. I used the XCOs because they have the ability to mix square, sawtooth, triangle and sine waves which gives a rich and complex wave.
The 3 strings are mixed to different levels before being sent on to the main mixer. This allows for the low tones of the note to resonate more than the high tones.
This is far from perfect I know and the complexities of all the resonances present in a real grand piano are probably only theoretically possible to build this way. I will try to build in a mute/sustain pedal of some kind for the next version.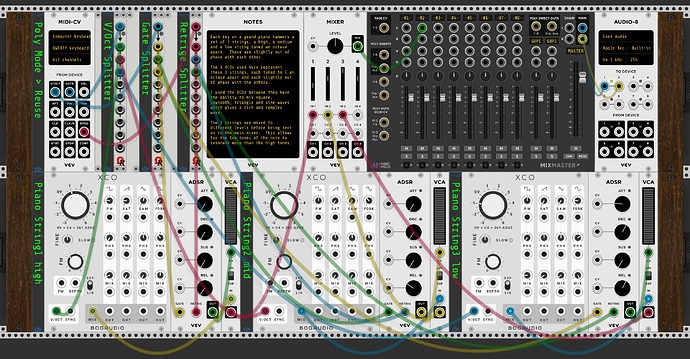 [Edit] This contains many errors and bad assumptions - thinking again about this one. I can't see a way to do this without treating individual strings differently and then how do you trigger from a standard MIDI interface?