I'm trying to randomly switch between 3 possible modulations of a signal: a sine wave, noise, and nothing.
So, I've hooked up this patch: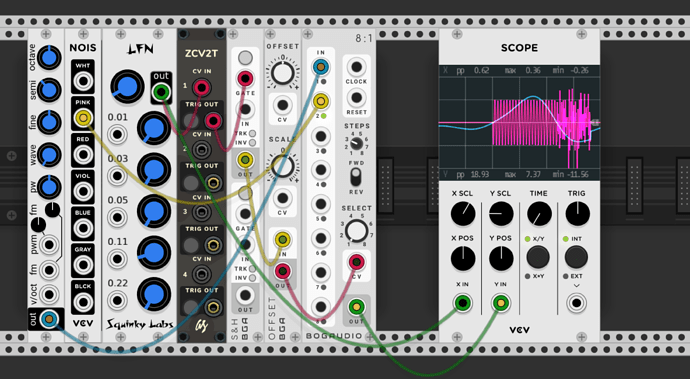 Every time the LFN crosses zero, the S&H is triggered to make a new selection from its internal white noise source. That selection then gets scaled between 0 and 3.75V, then forwarded on to the 8:1 unit, which switches between the three possible inputs (0V to 1.25V = sine wave, above 1.25V to 2.5V = noise, and 2.5V to 3.75V = nothing), the final output of which goes to Y on the scope (in real life, I'd send the output to the modulation target).
What I like about this:
I like to be able to control the frequency of, durations of, and delay times between zero crossings. I can modulate the LFN to change how frequently it crosses zero, or replace it with something else that has different zero-crossing behaviour, to get the switches in modulation source to occur with duration/frequency that I like.
What I am not thrilled about:
Having to do more math to address the 8:1 if, say, I want to change the number of potential modulations or weight them in various ways, etc.

Most importantly, this seems like something I should be able to do in less than 7 modules.
I'm not wedded to this particular way of controlling how/when a new modulation is selected, I just happened to build this one. But I've looked around for a simpler way, without success. Is there no simpler way?
Thanks!