About one year ago I stumbled upon Jakub Ciupinski's amazing video VCV Rack Hacks | Supercharge your VCF. I fell in love with the technique, which I like to call recursive filtering. But the Liquid filter really abuses the CPU when performing 16 recursive passes.
I put together a patch that compares the performance and behavior of a bunch of filters with regard to recursive filtering, and discovered lots of filter alternatives that I used in quite a few musical patches. I've been hanging on to the comparison patch (actually many variations), wanting to create a demo video and share. But I could never get around to creating the video.
Well today Chris theRealKitman posted an enquiry related to the technique, and there was a bunch of interest. I realize it is time to get off the pot and post, even if I don't have a video to go with it.
So here it is. recursive fllter docB.vcv (8.2 KB)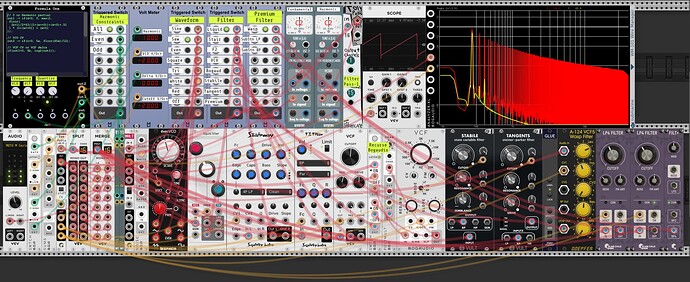 I have calibrated all the filters to track V/Oct with C4 at 0V. Most of the filters are free, but I also included a couple premium filter modules. The patch should work fine if you don't have those filters. There are some amazing options for recursive filtering. I did not include any filters that did not track V/Oct, or could not do a decent job selecting a limited set of partials.
All controls that are intended for user control are labeled in yellow. There is a lot to explore - have fun discovering what the various labeled controls do! If you get stuck, ask a question.
One note - the Bogaudio filter is able to hone in on a single partial using only one filter pass, and does not perform well if you try multiple passes. So it has its own dedicated routing button to enable or disable recursion. As "shipped", the bogaudio filter only does 1 pass.