Many users have requested a choice of dark panels for modules.
I could add a "View > Dark mode" setting to Rack's menu bar, which would suggest to all panels, components, and other widgets to switch to dark alternatives. All Component Library graphics (included in Rack, developed by Grayscale) would have dark alternatives that would automatically switch when the user chooses Dark mode. However, plugin developers would explicitly need to create dark versions of their panels and custom components. Therefore not all plugins would support Dark mode. Even worse, they will likely have a mix of dark Component Library graphics and default panels.
The Fundamental and Core plugins (both included with Rack) would have dark panels if Dark mode is added, such as the mockup below.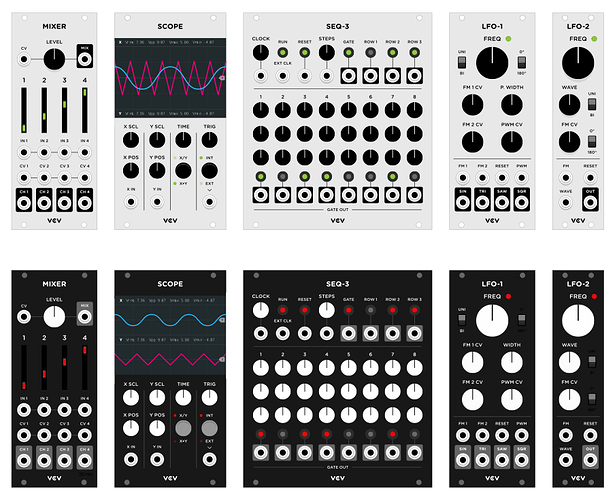 For a technical discussion, see https://github.com/VCVRack/Rack/issues/1663.
I don't need Dark mode. The default colors are fine.
I would use Dark mode, but I understand that not all plugins would switch to dark graphics.
For developers only: I will add dark graphics if Dark mode is accepted.
For developers only: I will probably not add dark graphics if Dark mode is accepted.