During the past few days, I have been starting to develop some plugins for VCV rack. The main goal was to develop plugins for my own needs but now I am wondering whether these tools could be useful for the community and if they are worthwhile sharing.
Two plugins deals with 2D geometric transform. My main motivation was to use them with the "chaotic lfo" developed by Wiqid (Bennie De Groot). I often use a combination of 2 output that describe a curve in a 2D plane and often want to apply geometric transformation on these curves such as 2D rotation or even 2D affine transform. I was using "Formula" from Frank Buss to that end, but I thought that it would be useful to have a compact module for this task. So, I implemented 2 plugins: 2DRotation and 2DAffine.

The inspiration for the third module comes from various discussions related to chord progression on the southpole website (I do not remember exactly where) and on some Reaktor forum (Playmodes and ColB users in particular). The idea is to implement a tool that would allow one to rather easily define chord progression graphs as this one.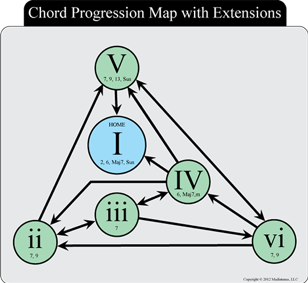 So, I have worked toward the definition of a sequencer/8-1 switch based on simple Markov chains. It allows one to define 8 states and their associated transition probabilities. It can be used for chord progressions but it is also appropriate for any chain of events.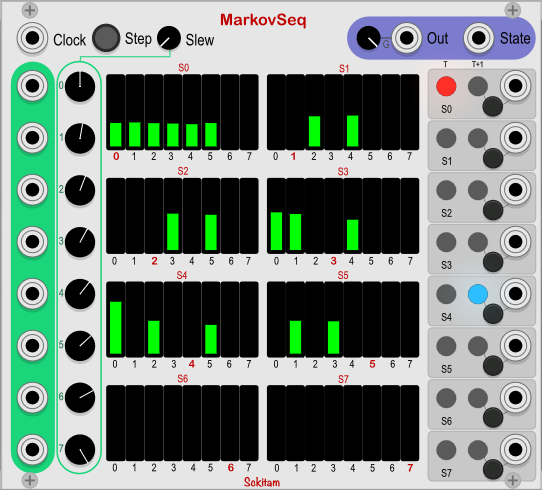 The code can be found at: https://github.com/philippesalembier/SckitamVCV I can provide the Mac build: https://www.dropbox.com/s/b1btj73cjwwvv5e/Sckitam-1.0.0-mac.zip?dl=0
I am sending this post to get some ideas on whether these plugins are useful for the VCV community (maybe tools with similar functionalities are already available) and also to get some feedback on how improve their design (these are my first plugins and I am not at all an expert on plugin development).
Thanks in advance.