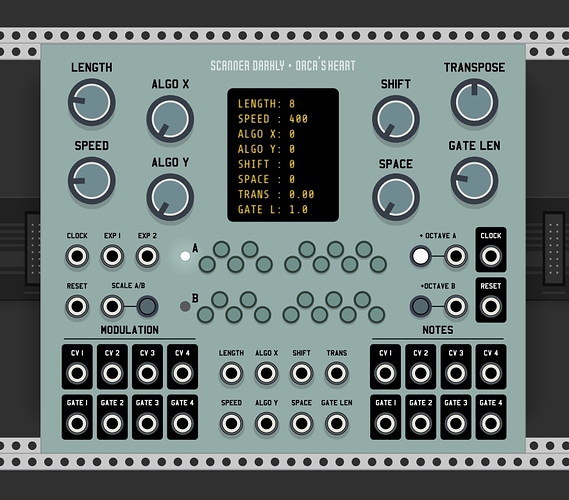 my first module, Orca's Heart, is now available in the vcvrack library as part of my Collection One plugin.
it's an algorithmic sequence generator - you select scale notes and it creates a sequence out of them. the most basic usage is: use CV and Gate outputs from the Notes group on the right as you would on any sequencer (CV to 1V/Oct oscillator input, gate to trigger an envelope). adjust various parameters using knobs until you get something you like. then try adding modulation for creating more complex sequences.
it supports up to 4 voices, and it's designed to create complimentary sequences. it also loves modulation - try plugging a slow LFO into Shift input, for instance. self patching can also make for interesting complex variations - try using the Mod outputs on the left.
more detailed documentation here: https://github.com/scanner-darkly/vcv-collection-one/wiki/Orca's-Heart
will try to expand the manual soon and add various patches / tips. any feedback greatly appreciated!