From @joopvanderlinden and Path Set come two new plugins that mix composition techniques with modular aesthetics. Harness sequencers that can react to your melodies like a jazz musician improvising on compositions. Blend rhythmic subdivisions with weighted note pools to author or randomize rich melodies that mutate over time.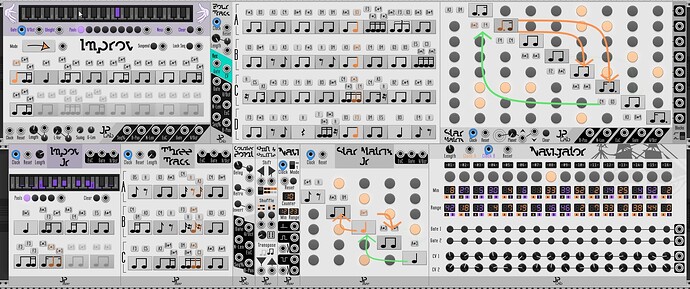 JPLab is a premium collection contains with three main sequencers, a utility module, and a bonus expander.
Four Track ‐ Program 4‐voice melodies or chords.
Improv - Jazz companion. Add notes to the keyboard and it adds them to the sequence.
Star Matrix - Fully control transition chance between any note block.
Navigator ‐ Sequence events with two gates and two CVs and a bit of randomness.
Counter Point ‐ Expand any main JP sequencer with an extra voice using delay, regression or inversion.
JPFree is a free collection containing Jr versions of the JPLab sequencers and the Shift & Shuffle expander which works on any main JP sequencer, even those in JPLab.
The stylish manuals describe the rich features these modules have to offer. And if one of those features happens to be broken please report an issue.
Thank you to everyone who helped test these modules!