Citizens of the Rack federation,
It's new module day! - MindMeld are delighted to announce the public beta of our new module - PatchMaster - and some supporting utility modules that are designed to pair with it. The original idea for PatchMaster was Omri Cohen's - we loved the idea and collaborated closely with him on the development. Please join us at 8pm CET this evening for Omri's video premiere where he will work his magic and show you everything that PatchMaster can do.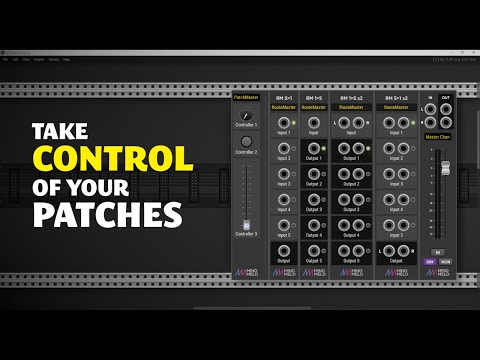 What is PatchMaster?
PatchMaster is a performance controller for Rack. PatchMaster enables you to build custom interfaces made up of knobs, buttons and faders, with editable labels, to control the key parts of your patch. PatchMaster allows you to simplify your patch, avoid all the clutter/distractions and focus only on what's important for performance.
There are 3 main use cases for PatchMaster
Use it as a performance controller for multi-track patches

Use it to create an interface for synth emulations

Use it to create macro controllers.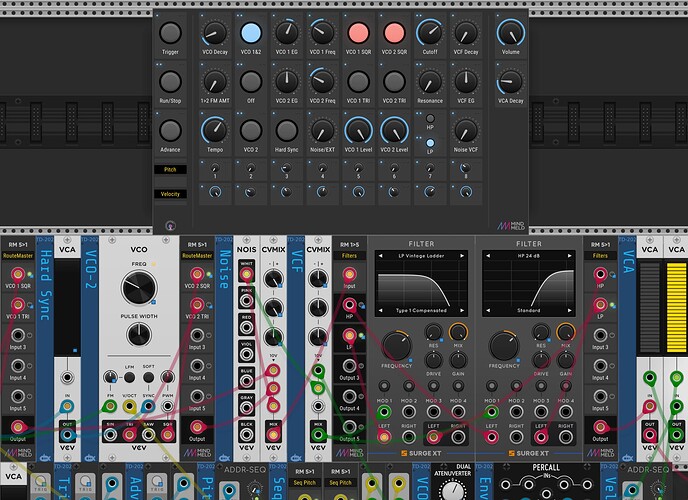 Omri's updated Moog DFAM emulation with PatchMaster interface and some RouteMasters down in the patch itself.
How does PatchMaster work?
When you first instantiate PatchMaster it looks like a rather underwhelming 4hp strip with one knob and one button but don't let that fool you - under the hood PatchMaster is a very powerful and flexible module. You can add whatever knob, button or fader controllers you want to PatchMaster and midi map them to controls on the modules in your patch. Each controller can be mapped to up to 4 different destinations with different ranges, so each controller can act as a macro. You can add as many instances of PatchMaster as you need and when you place PatchMaster modules next to each other they join together to look like a single module - it is a modular interface for your modular synth!
Everything in PatchMaster is controlled through menus. There are 2 types of menu:
Main panel menu for editing global settings of the module and adding new controllers and separators

Controller menus for editing and mapping individual controllers
What kind of controllers are there?
Knobs: Small, Medium or Large - Unipolar or Bipolar
Buttons: Momentary, Latched, Latched with inverted light, Radio Trig, Radio Latched
(Radio buttons are exclusive and need to be placed next to each other to work as a group)
Faders: Large, X-Large, XX-Large
What are separators?
Separators take the form of Divider Labels (for labelling sections of your control interface) or Blanks (used for spacing)
What other new modules are there?
There are four new utility module called 'RouteMasters' which are designed to work with PatchMaster (although they can also be used standalone). RouteMasters are switches but they are selectable, not sequential. The are two mono RouteMasters, a 5 in 1 out switch and a 1 in 5 out switch, and two stereo versions of the same. RouteMasters enable you to route signals in your patch and control them using radio buttons on PatchMaster - you can use the RM 5>1 switch to select which VCO wave you want to pass through, or use the 1>5 switch to select which FX you want to route your signal to for example.
There is also a new module called 'MasterChannel' which is like the Master output on MixMaster mixers. This is useful if you don't need a mixer but still want a master output section for your synth emulation for example with an accurate VU, soft clipping, DC blocking, mute and fade etc - just like on MixMaster
Take control of your patches with PatchMaster!
A lot of work has gone into PatchMaster and Spock (Marc) and I are very proud of the result. We believe it brings something new to the Rack ecosystem and we hope you find it as useful we do.
PatchMaster is free - it will be included in the regular MindMeld plugin and you can download the public beta here:
As ever, thanks are in order to all those who helped with their inspiration, ideas, and testing. Full credit to @Omri_Cohen for the initial idea - this module would not exist at all without him and it has been great to collaborate with him on it. A massive thank you to @DaveVenom who has been involved from the early stages of development and whose ideas and detailed feedback have been invaluable. Thanks also to Kevin Brooks for his later stage testing and feedback.
Mad respect and a tip of the hat are also due to Benjamin ' @stoermelder ' Dill . While he has not worked directly on PatchMaster, we couldn't help but be influenced by his incredibly clever and ground-breaking work on midi in Rack, particularly his Macro module. Ben has also very kindly made a new module called S++ (currently available in his nightly builds of Pack One) which is like Strip but works with multi-row Rack selections. It allows the import of saved Selections with midi mapping in place which means you can save PatchMaster constructs and import them into other patches - Thanks Ben!