Hi all!
New to the community but have been using this fantastic software for a little while (only v0.6.2 so far). Forgive me if this is better off on the Issue Tracker but this seems like a gentler place to start.
Since I started working with more plugins I've been wanting a way to hide models (I haven't seen this mentioned that often but it's the exact feature requested by https://github.com/VCVRack/Rack/issues/1219).
I just implemented one against v0.6.2 (this post was originally a "should I" post but that's moot now). As shown in the GIF below, it works like this:
Opening the Module Browser with CTRL held shows all models but replaces the favorite button with a Hide button.
If any models are hidden, they're not loaded into the Module Browser when it's normally opened.
Projects with hidden modules will still load normally; this only affects the Module Browser.
Hiding takes priority over Favorites; if a favorite is hidden, it doesn't appear, but once it's unhidden it's back in the Favorites area.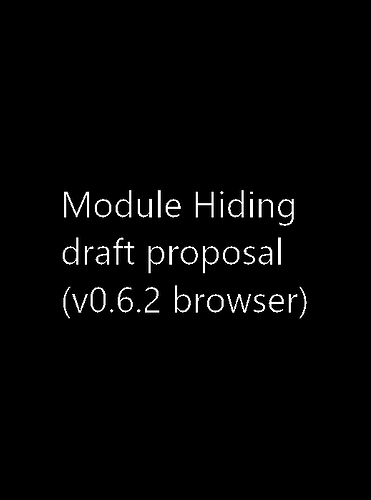 It ended up being cleaner to just add the list of hidden modules to settings.json (next to the favorites list).
I'm using this now and really enjoying it–is anyone interested in a fork? (I can do a pull request if that's appropriate, although I know v0.6.2 is the end of the line and that the ModuleBrowser is changing in v1.0).
Best,
GC