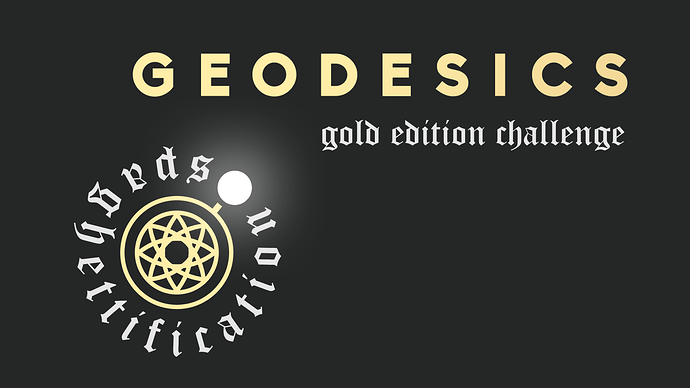 GEODESICS Gold Edition challenge
Aka an entropic challenge
Aka a challenge where Ben DeGroot can participate!
Aka a challenge where you can cheat!
Dear rackers, we have been really pleased by the warm welcome you offered to our last module Entropia. Here is an opportunity to dig deeper the entropic system…
==THE CHALLENGE==
Use the demo patch of Entropia, and turn it into something of your own, make it evolve, or destroy it as long as the DNA is kept.
== THE DEADLINE==
28 April 2019 no timezone – to be followed by one week of vote
==THE REWARD==
A redesigned gold edition of the entire Geodesics collection (5 modules). This pack will never be public and will be enjoyed only by the winner of the challenge. In case of a tie, the design will still be different for each winner.
You can also win res long fame (eternal fame can only be provided by the VCP challenge).
==THE RULES==
The Entropia demo patch shall be the starting point of your own patch.

The patch shall be modified, destroyed, rebuild as will

You can add any modules you want.
-Free or paid, plugin manager housed or lone wolves' modules, no holds barred.
You can delete any modules you want but one:

The Forbidden module shall remain included and not be modified.

Seriously… don't touch the Forbidden module!
==HOW TO PARTICIPATE==
==THE RANKING==
A playlist will be made with all the submissions. People can vote for the best patch to their own taste.
==HOW TO CHEAT== (modular ranking)
Once the official ranking is defined, another set of rules will apply. You can take account of these rules to cheat the ranking:
Newcomers welcome: if the video is the first vcv rack video of your Youtube channel, your braveness shall be rewarded by +1 row.

Devs, let's hear you! If you have made a collection of modules for vcv rack, your awesomeness shall be rewarded by +1 row (please mention it somewhere) (modular fungi don't count )

If you have hosted at least 28 vcv challenges, your devotement shall be rewarded by +1 row.

If you are using at least 2 instances of every Geodesics plugins, your expertise shall be rewarded by +1 row.

If your patch includes 3 instances of Entropia running at audio rates as VCO, your craziness shall be rewarded by +1 row.

One of the submissions will be a made up one called: "Every module randomised", by Rando Patchissian. If this submission wins the challenge, the hosts of the contest and every participant shall stop making music forever and spend their days wondering what went wrong with this world.
Those are the rules of the challenge, good luck to you rackers. May the inspiration strikes you at the right time!