Hey gang, I haven't seen one crop up yet, so figured I'd start the inevitable generative techniques thread:
Would love to see others folks generative 'bag of tricks', or approaches they've found success with. Let's see/hear your favorite Krell-y, Autechre-y stutter-y, self-assembling bleep bloops!
Attached below is one of my favorite go-tos: A cycling AD generator with end of rise/end of cycle gate outs, triggering a random. The random then gets mult'd back to the speed of the cycling envelope, and over to the pitch of an oscillator or similar. The EOR gate from the cycling envelope is also used to ping a Low Pass Generator in time with the new random values, giving you a nice 'litling' kind of gesture. The attenuation from 8ver can be used to add/subtract random modulations to taste.
This whole approach could be built on by using the same timing pulse to drive events in another voice, clock an 'unsteady' sequencer, etc!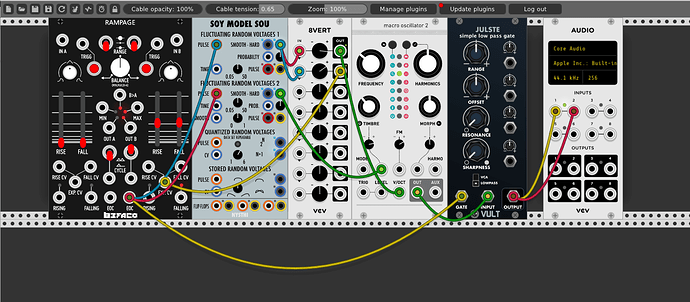 rampageSOUexample.vcv (6.0 KB)