I am looking for a way to count the number of notes in a scale (in one octave). I have a patch that uses Oh Peas by @computerscare and I want to take full advantage of its built-in scale options, but I am using interval-based inputs similar to the Eventide Misha and the intervals are different in different scales (i.e. a pentatonic scale has 5 notes, a blues scale has 6, and a major scale has 7 notes per octave).
Here's what I have now: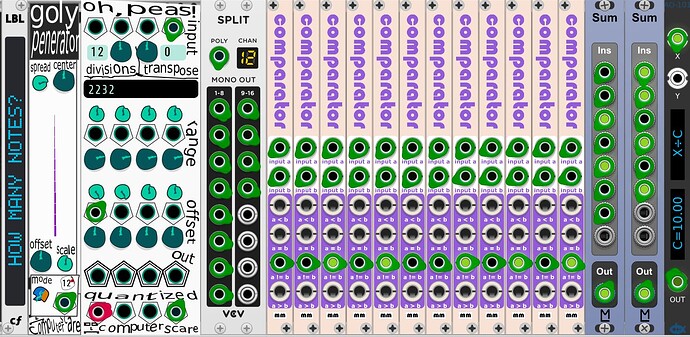 The Goly Penerator sends 12 equally spaced signals between 0 and 1 volt through Oh Peas. Oh Peas quantizes to the set scale, then the signal is split and sent to comparators. The first compares channels 1&2, the second 3&4, and so on until the last which compares 12&1 to get the extra needed signal for the root note to count. This image is a pentatonic scale, so five "not equal" signals send out 10v each. Those are summed then divided by 10 to get 5v which I can then use in the patch to set interval voltages. When I set Oh Peas to major or minor, I output on the far right changes to 7v.
My current solution works, but I am sure I am just missing the perfect module or search term to find the perfect module. Anyone have a better way to count notes than this?