hi, thanks for your input.
CSOSC:
Generally i am not a real fan of putting much effort into anti aliasing as i do not expect that every instrument or oscillator must have a octave range of a piano and i design sounds almost always for much smaller ranges. Second i generally handle aliasing which is in fact a computer thing and we indeed produce sound with a computer and not an analog circuit, if it occurs, by either using it or adjusting it e.g. in this example reduce clip and skew dependent on v/oct input. Well, a small effort would be that i measure the actual clip length which also depends on the skew value and output a sine wave if it is smaller than a threshold value.
Ratio
Indeed Ratio was designed together with EVA to have a tiny fm operator with minimal CPU usage, here an example of an epiano like sound: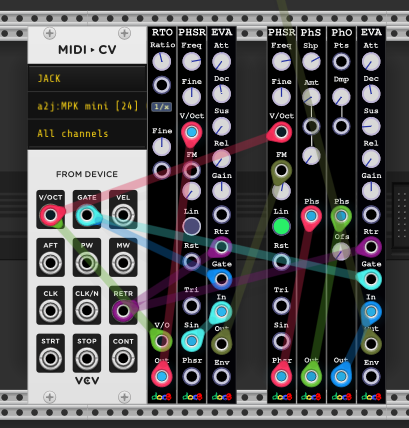 How should polyphony behave? Currently the ratio value is overridden by the input value visible on the knob. Should it be relative with attenuation?
PHSR2
PHSR2 is part of the modular phase distortion and not designed for making sound by its own or as envelope generator (may be this is an idea for a different module), here the small standard example: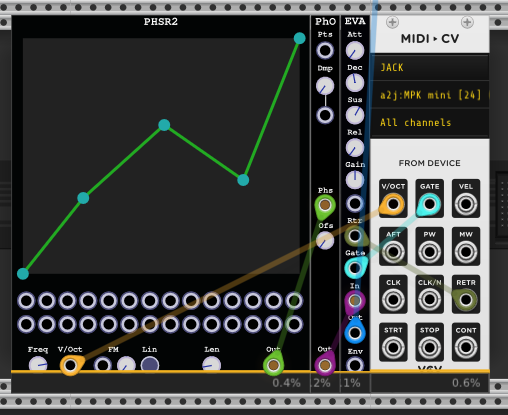 The outer points should in general not be touched i.e. should be -5, 5 as otherwise discontinousities can occur on the resulting PhO output (also the reason why they cannot be modulated).
Anti aliasing would make noise on the phase driven oscillator.
MVERB
This issue should be fixed here (tested on some smaller laptops - old mac pro and linux - also thanks to @Wirenes and @FiroLFO for reporting and testing)