Are you sick of seeing module after module with:
consistent/"clean" graphics
round knobs
straight lines
proper fonts
???
Well then you're in luck! I am happy to announce that version 1.0.0 of Computerscare Modules is now available in the plugin manager.
Brand new Polyphonic Utility Modules: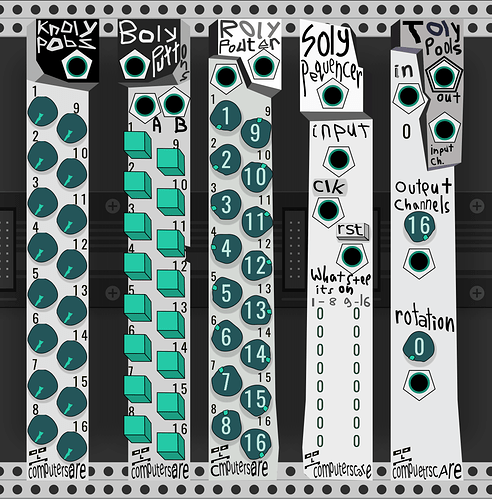 Knoly Pobs
16 knobs, polyphonic output, range: 0 - 10 volts.
Boly Puttons
16 latch buttons. On/off voltages selectable via right-click menu. Plugging in a polyphonic signal to the A/B inputs will override the selected on/off values and use the CV signals instead. If a monophonic signal is plugged into the "A" input, its voltage will be used for ALL "off/up" buttons. If an n-channel signal is plugged into the "A" input, the "off/up" button voltages will match the "A" channels up to n, and then re-start at "A" channel 1. Behavior is the same for the "B" input. Note that this behavior is different than the recommended method of handling polyphonic signals.
Roly Pouter
Re-route the channels of a polyphonic signal. If you select an input channel that is higher than the highest available channel of the input signal, the output voltage will be 0.
Soly Pequencer
Sequentially output the individual channel voltages of a polyphonic signal. Connecting a polyphonic signal to the clock input allows for multiple independent sequences. Polyphonic reset channels beyond the number of channels of the clock signal are ignored. I think that the clock/reset buttons will apply to all channels.
Toly Pools
Display input channel count
CV output of the input channel count (1 - 16 channels is linearly mapped to 0 - 10 volts)
Knob and CV for setting output channel count (0 - 10 volts linearly mapped to 1-16 output channels)
Knob and CV for rotating the polyphonic signal (0 - 10 volts sets rotation of 0-15 channels. For example: rotation of "1" will move input channel 2 -> output channel 1, input channel 3->output channel 2, … input channel 16 -> output channel 1)
Also included are our old friends from the previous releases with some improvements:
Debug - Multifunction voltmeter / display
Poly mode for clock and input, allowing it to function as a polyphonic sample&hold
Internal mode for clock and input, usable as a "realtime" polyphonic volt meter or noise source
Father & Son Patch Sequencer - Multi-scene patch matrix sequencer
Fully polyphonic input & outputs
Oh Peas! Quad Quantenuverter - Attenuverter, offsetter, quantizer
Polyphonic input, range CV, and offset CV
Laundry Soup - Rhythm sequencer
I Love Cookies - CV / signal sequencer
I can all but guarantee there are bugs. Please report at: https://github.com/freddyz/computerscare-vcv-modules/issues