Hello.
I'm working on my second module.
Bitwise contains four sample and hold modules (basically four of my Pop modules jammed together) where the triggers can be "filtered" via selectable patterns of 4 x 16 boolean values.
If the trigger input you send a pulse to is "on" in the "row" of the filter pattern, the trigger in that sample and hold circuit will fire. If not the trigger pulse will be ignored.
You can manually select the "filter row" and also modulate it with CV.
Each sample and hold element also has a pulse trigger output as well.
The draft panel design is below but some features are missing, and the final design will be different as the colour contrast is rubbish and labels are missing, etc.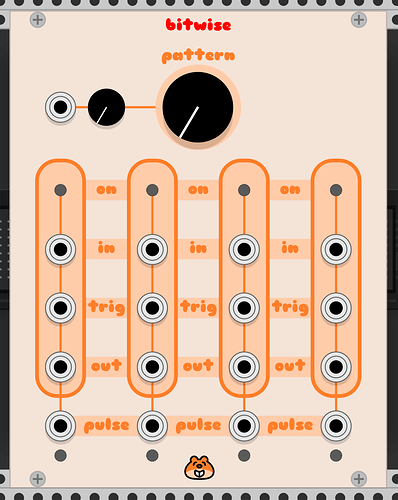 …with cables showing in a test patch…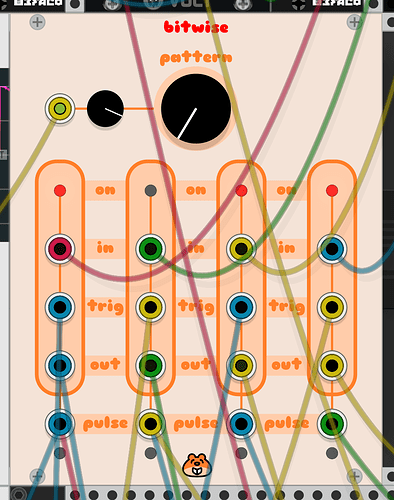 Some things not showing yet which I'm working on:
Merged polyphonic output. However, when individual output cables are plugged in, they will be removed from the polyphonic output.
Thinking about adding a parameter to set the length of the pulse signal from the pulse outputs. The recent thread on pulses vs gates got me wondering about adding that.
The panel is missing the parameter knob to select the current preset "filter" pattern (there will be 8 patterns hardcoded into the module). You'll be able to CV modulate that as well.
Also missing from the panel is a visualisation of the pattern. I want the module to show which row is active in the current pattern, e.g. a "lit up" row.
I'm making this to (i) scratch my own itch and (ii) learn more about module development.
This will take me a few weeks to get ready for any testing people might want to help with, as I'm not a super genius.
After the release I will work on an expander module for it to enable people to create, load and save their own filter patterns.
Thanks for reading. I'd appreciate any thoughts. And if someone has already done a module like this I apologise in advance. There's so many modules now it's hard to keep up.