Is anyone interested in using this? And if so, a couple of volunteers to test it would be good. It's a module I made for myself to change the colour of the cable that you're currently dragging (only while the cable is disconnected, to attempt to minimise interference with other keyboard use) using the 1-9 keys on your keyboard, but figured that if others are interested then I might submit it to the library.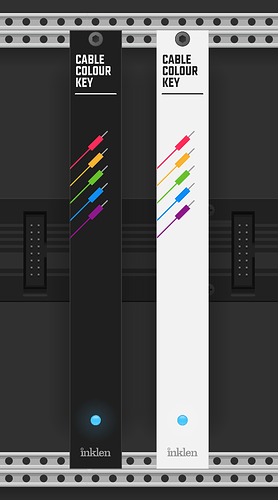 You can also set it to latch to the last selected colour so that it doesn't cycle through the colours. The small indicator light shows the current (while dragging) or next cable colour. I know there are currently much more powerful options (e.g. Count Modula's Cable Palette, or others that use multiple modules), but nothing has really suited the way that I work, or feel too complicated (I like the idea of the new colour picker in the pop-up menus, but usually I think about the colour after I've clicked a port, and being on a laptop, I prefer not to have to right-click anything).
I want to keep it simple, so I don't really intend on adding any further features.
The colours are the same used by Rack, and can be edited in your settings.json file (search for "cableColors"). I don't know why you would want this many, but the module supports up to 9 colours.