Thanks, I'll take a look at the manual for "poly gate".
It would be nice if there is already something like this that would take poly cv, gate, and velocity and output trigger and velocity per drum. Poly Gate was super easy to make, took like a couple hours.
Cool. Anxious to hear if that works.
Yes, that looks like the General MIDI percussion key map I used in Meander for Windows. Thanks for posting this as I was needing to look at that mapping and did not have it handy.
For now I am experimenting with the Entrian Player: Drummer module and Entrian Acoustic Drums which is playing my 24 year old Meander MIDI drum sequence file.
Sometimes it is hard to figure out what I was doing 25-35 years ago, even with my original source and data files

This is a better, more authoritative link
Scroll down for "General MIDI Level 1 Percussion Key Map"
Oh man, that brings back my memory!
hopefully a midi file player that is clockable? I've seen some that implement the tempo track without any way to "just" send a clock to them.
LOL, I was a member of the MIDI Manufacturer's Association back then

I can't find a single free midi file player for rack 2. and the drumkit sfz's i mentioned does not load in sfz player.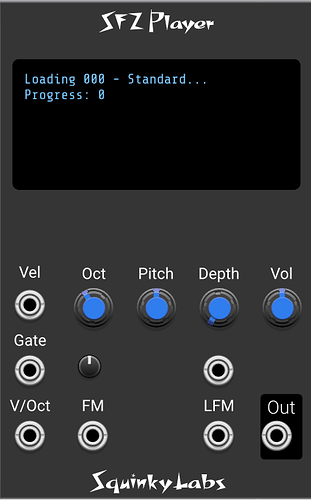 The Discord-SFZ-GM kit loads in plogue sforzando without errors.
The samuelsantana GM-SFZ loads in sforzando, with some missing sample errors.
I must surely have been an honorary member

I just went through my music bookshelf and found some of my MIDI standards and references. Surely I will not need to get that deep into MIDI. It is somewhat surprising that Meander for Windows executables versions from 1996, 2002 and 2016 still work. The last serious work I did on it was in 2002. If I looked hard enough, I might find a DOS version

Yeah, there are a lot of SFZ that don't work with SFZ Player. It's one of the things I would have liked to improve about it. Most drum SFZ I've seen work with it, but I for sure haven't tried all of them! I bought all the Samples From Mars - they have a lot of drum machine samples in SFZ format.
The Entrian Players are free and allow import of MIDI files. I'm using both the drum and melody players with some of my old MIDI files. Is that a "MIDI player"?
I'm using FM-OP for the melody player voice and premiums Acoustic Drums for the drum player voices for playing around…
Oh yes - didn't think of those.
the midi players from mscHack, wrongpeoplevcv i was looking for didn't make it to rack2
Yeah, I was looking for that yesterday and remembered it hasn't been ported to Rack2.
wrong people doesn't have a clock input, so ima guess it falls into that category I was talking about - MIDI File players that aren't easy to clock.
I will have a look if I can improve the import to see if I can get it load properly. Can you upload the files somewhere to be sure I pick the correct ones. Or post links? Preferably on github? Thanks.
https://github.com/sfzinstruments/Discord-SFZ-GM-Bank
I tried downloaded it as zip, and extracted it to h:\sfz then tried loading the kit in "SFZ Player":
H:\sfz\Discord GM\Discord GM Bank - Drums.sfz
this sfz loads
H:\sfz\Discord GM\Drums\001-Standard Kit.sfz
loads files like this
"001-Standard Kit/Kick 1.aif"

I haven't read about SFZ player - maybe it only loads wav not aif ?
Anyway, it loaded in sforzando - thank you for looking into adding support for more sfz file dialects in "SFZ player"
Add:
My suspicion was correct. no aif support.
"SFZ may have several different types of sample files, although the huge majority use wav or flac. We do not read ogg or aiff files, so if you find the rare SFZ instrument that uses them you are out of luck. Unless you are motivated enough to convert them yourself." link
The santana sfz from https://github.com/samuelsantanaoficial/GM-SFZ contains only wav, but some samples that are linked to in the sfz are not found - that might be the problem, if they are not skipped gracefully if not found, like in sforzando. Sforzando gives an error and lets you play with the samples that are present.
ok, this time i get an error when loading the file 000 - Standard.sfz from "samuelsantanaoficial"
I must have done something different - Like not trying to load the aif containing sfz first.
SFZ player: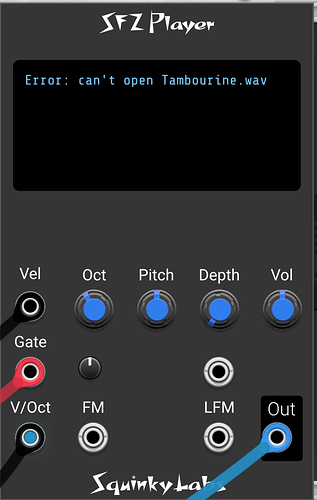 Sforzando returns a list of missing samples: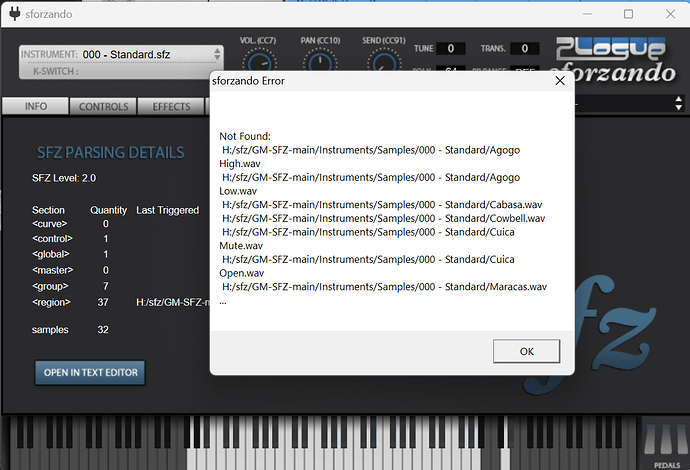 I'm sure there must be better GM Standard mapping drumkits in sfz format out there. Perhaps even free of charge.
The salamander drumkit works with sfz player.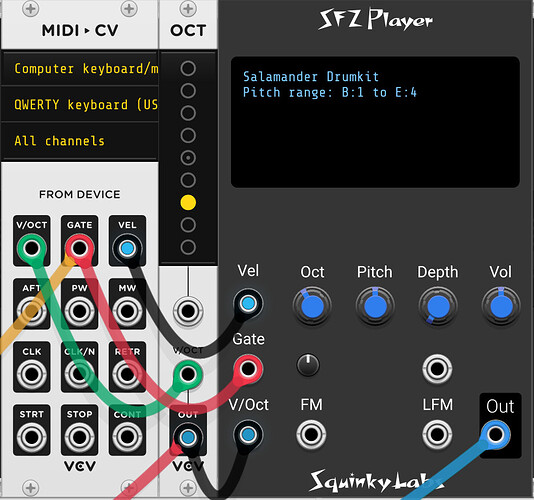 Instructions here: GitHub - endolith/Salamander-Drumkit: Open source drum kit in SFZ format by Alexander Holm and kinwie
I used this sfz
and a torrent for the samples: Salamander Drumkit : Alexander : Free Download, Borrow, and Streaming : Internet Archive
Yes. Isn't the Salamander kit in the sfz player manual, possibly with a download link? It's pretty good, with round robin sample assignment to avoid that machine gun sound. Don't think it's GM mapped, but I'm not sure.