In 2009, Rob Hordijk designed a "primitive" synth instrument called the Benjolin and released the design to the world for DIY enthusiasts, as well as developed a kit and conducted many workshops. It consists of two oscillators, a multimode state variable filter, and a pseudo random circuit called the rungler. It is a shift register sample and hold using oscillator 2 pulse as the clock, and oscillator 1 triangle through a comparator, XORed with the end of the shift register as the data input. Three of the shift register values are treated as binary bits and converted to analog voltages with 8 possible values, which is the primary output of the rungler. Another comparator uses the triangle waves from both oscillators to create variable width pulse waves that are fed as input to the filter.
The magic comes with multiple cross modulation paths, and knobs to attenuate the various signals. The deceptively simple design can create an endless variety of sounds with a few twists of the knobs - with lots of auto generative possibilities. Nothing is truly random, but there is chaos galore. A complete self contained experimental electronics instrument in a box.
Since then there have been various enhancements, as well as adaptations to create Eurorack Benjolin modules. After Later Audio collaborated with Rob Hordijk to create the Benjolin V2 Eurorack module. It has all of the original components, with some really useful enhancements, as well as a patch bay. It still works wonderfully as a standalone instrument, but also integrates well with larger modular rigs. Here are a couple nice demonstration videos.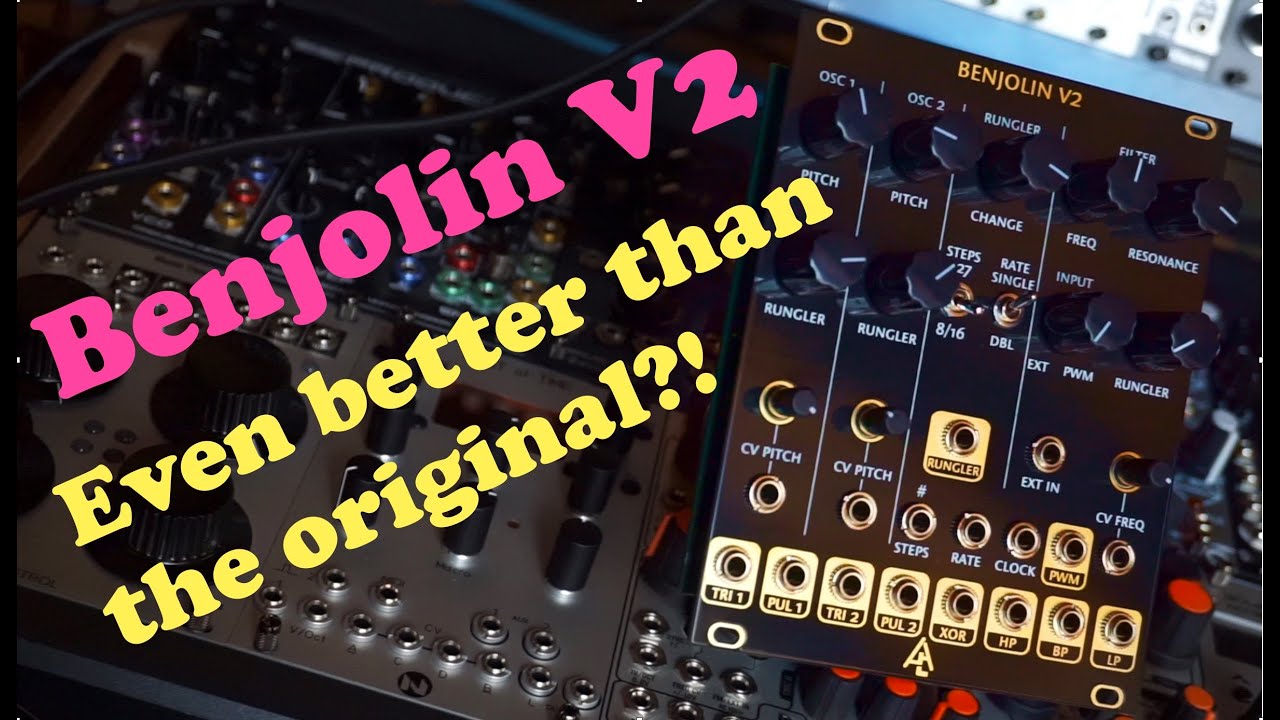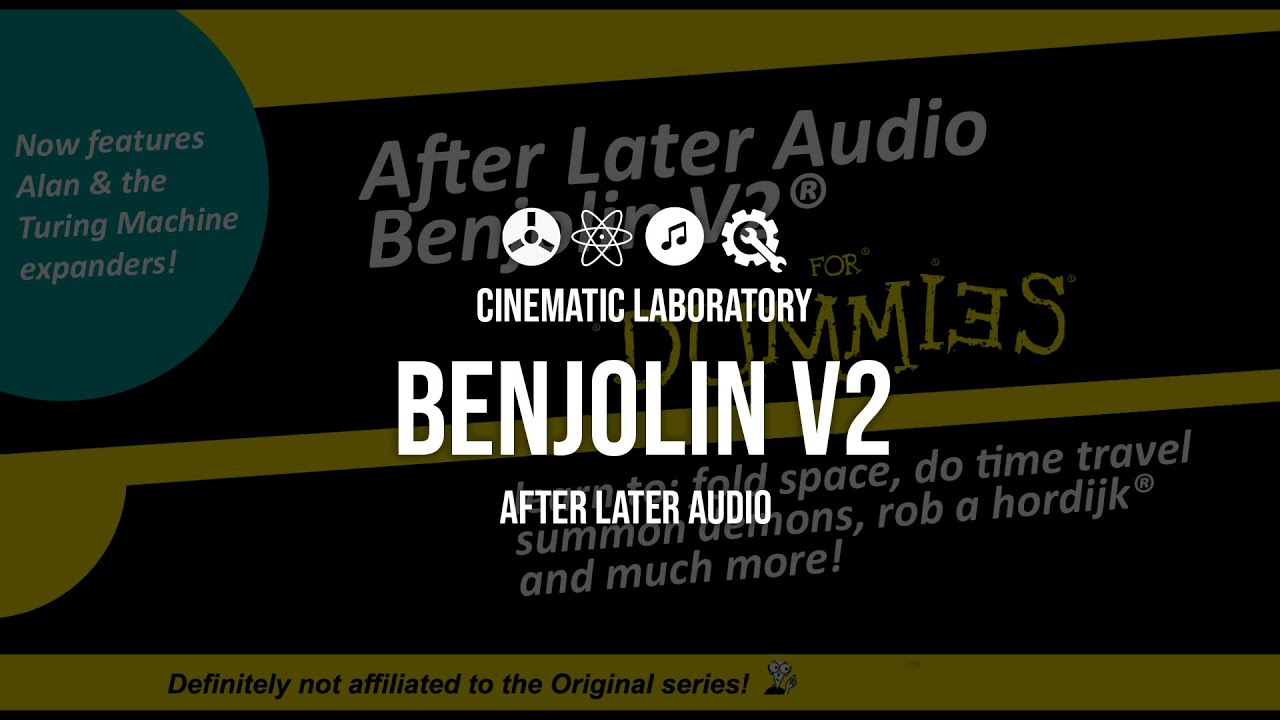 I have studied the extensive user manual, and I believe I have fairly accurately replicated the functionality of the Benjolin V2 as a VCV patch using free modules.
Note - There is much improved patch version 4 now available
I have already spent hours exploring the sound possibilities with this instrument. It is so easy to get lost in this world. I haven't even begun to explore what is possible by incorporating the instrument into a larger patch, other than incorporating some reverb.
Here is one chill recording that I created that is mostly auto-generative, with only a few tweaks strategically placed throughout the 12 minute piece.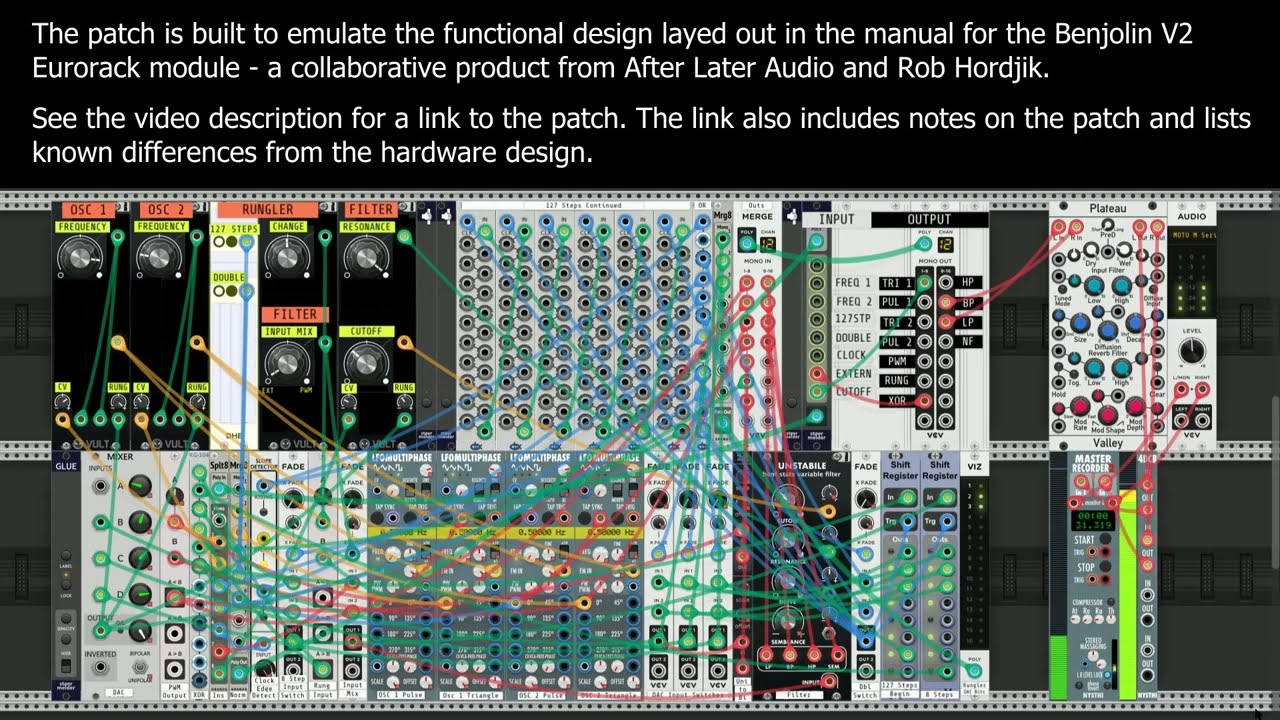 Now I encourage others to try out the patch and see what you can do with it. And please, please, please - post your results to this topic. Try it as a standalone instrument as I have done, or show me what you can create using the patch bay and additional modules. Just don't make any modifications to the benjolin itself - all of the intended user controls and patch bay inputs/outputs are clearly labeled.
If you are unable or unwilling to share a recording or video, at least post a response describing your experience with the patch. I would love to hear some feedback. Or if anyone owns the actual hardware, tell me how close the emulator is to the real thing, and maybe make suggestions for improvements if I got any of the design wrong.
I have never had the opportunity to work with any Eurorack hardware. If I ever invest in my own hardware system, I am pretty sure I will include the After Later Audio Benjolin V2. For those that already have a Eurorack system, maybe playing with this patch may convince you to purchase the module.