Hiya hi hello hey! I've started making a few little cool and nice modules for VCV Rack, entitled the Aria Salvatrice Signature Series. I hope you will like them.
Version 1.3.0 BETA: Arcane, Atout & Aleister - Toady's Fortune ★
I hope luck is on your side. Every day, you will share together the fortune I shall grant you. It is your task to interpret what my augury means to you.
Modules in the Arcane series are comprised almost only of output jacks, sending today's fortune as CV. Those values are the same for every Arcane user, and nobody can predict or influence them. I pronounce a new oracle every day at 12:00 AM UTC without fail.
How to interpret my fortune is up to you and your friends. You can make use of a single output jack of the module, or all of them. You can craft an ephemeral song that will no longer exist tomorrow. You can create an unchanging patch that will grace you with a new song every day. There are no rules but the ones you choose to follow.
There is no offline mode, and no built-in way to load older fortunes, by design. These are multiplayer-only oracles. Using this series of modules to their full extent requires a bit of creative patching, a bit of lateral thinking, but most importantly, friends to share your different interpretations of the same fortune with.
If you treat my oracles as a mere random number generator, you will never gain any wisdom from them.
[ Jump to the release post in this thread > ]
---
Version 1.2.0: Darius Branching Step Sequencer
Are you still looking for the perfect sequencer, the one that allows you to effortlessly express any musical idea?
Sucks.
Here comes yet another gimmick module challenging you to integrate its bizarre ideas to your song instead.
Darius is a 8-step sequencer where each node branches into two possible paths, creating repeating patterns that start similarly and resolve differently. Takes a whole 32hp of space to fit all its knobs.
[ Jump to the release post in this thread > ]
---
Version 1.1.0: The Split & Merge Series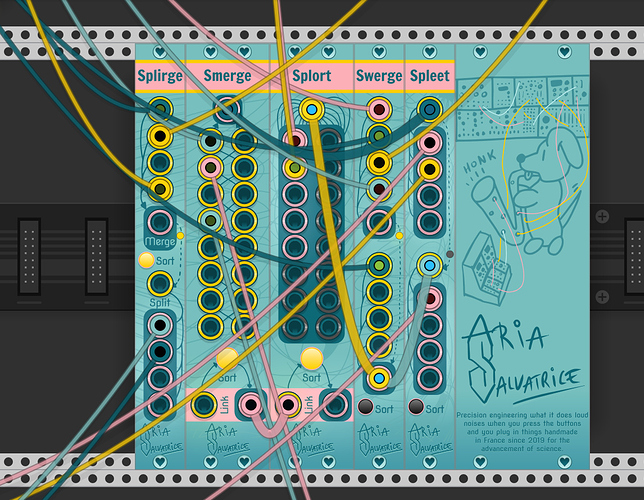 A collection of tiny cute polyphonic splits and merges, with a neato trick: they can sort channels by voltage! It's meant for neat freaks who want their values in order, and for the advancement of science in general. I did not make them because a use case exists. I made them because I want to see what kinds of use cases you will come up with.
A complimentary Signature Series 8hp Blank Plate and

-head screwdriver are provided with every Signature Series module purchase.