Hellooo if anyone is interested in trying the beta for my new module "Colors", a really nice reverb for ambient and electronic music, you can download it here. Link removed.
I made the algorithm from scratch earlier this year (not a Clouds reverb or Dattoro or anything). It's an FDN with input diffusion, multi-tapped delays, and twelve internal LFOs being used to modulate delay times. It was originally designed to run on an embedded ARM processor, so should be fairly low CPU.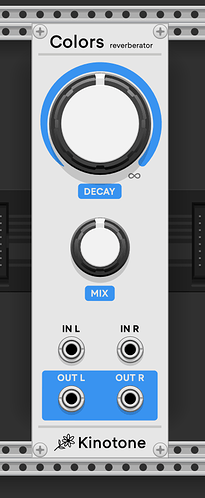 Simply follow this link and do a "save link as" with the .vcvplugin file and then save that file to your Rack2/plugins folder. Should boot up and then be available in your Library. If it crashes Rack 2 for any reason, simply delete it from the Rack2/plugins folder and it'll disappear.
If you download it, please let me know which OS you downloaded it for, and if you could, once it's up and running, click Engine->Performance Meters and let me know what % CPU you're seeing for my module. Should be fairly low (1-3% CPU) but just want to confirm. Let me know if you have any issues with it, otherwise enjoy.