I've got a couple of new modules I've been fooling with for a bit. There are test builds available.
The new "line" is called "Squinkytronix". You might notice the name is similar to "Squinky Labs". Well, it's still me, but doing slightly different things. I will try to avoid doing any DSP modules, so the dreaded "A" word shouldn't come up.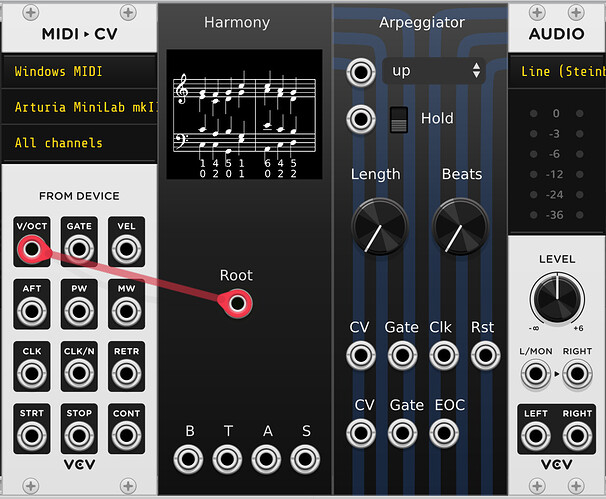 One of the modules is called "Harmony". You might call it an intelligent chord generator. Although it's not that intelligent. It picks the chord voicings, including doubling and inversion, to generate rudimentary voice leading that follows as many rules as it can and that it knows about (whichever is smaller).
It displays the resulting four part harmony in what I think is pretty nice looking standard music notations. But that's just eye candy, you don't need to read music to use this module. The CV outputs are where the action is.
The other module is called "Arpeggiator", which is what it is. It has a good number of arpeggiation modes, and some extra controls to control the rhythmic repetitions. And lots of CV control.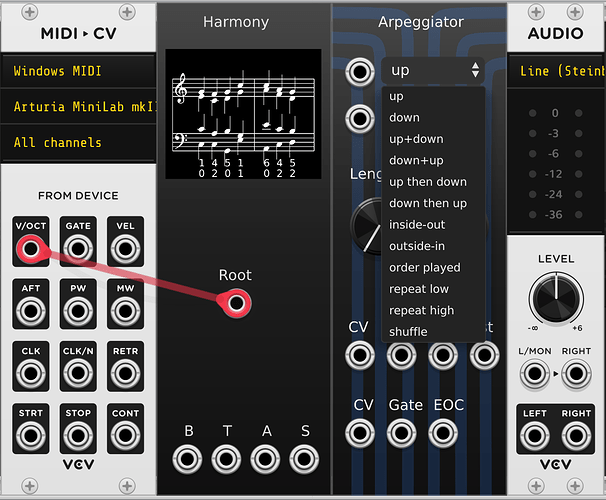 Neither of these modules is ready for release. I'm hoping some adventurous people will try them out and suggest some cool changes.
Harmony, in particular, could use more features. People who do know old fashioned music theory will be in a good place to understand this and suggest some features, but other too.
The current panel designs are just hacking around, and will not be final. I don't really know what these will look like, but they will be "dark" and won't tend to have small blue knobs.
There are mac, win, and linux builds available for download. The modules do have skeletal documentation, too, on the context menu in the expected place.
The manual for Harmony does list the voice leading rules that it knows about, for those who are interested.
You can find the downloads here: https://github.com/squinkylabs/SqHarmony/releases/tag/v2.0.0
And there are links to the manuals here: https://github.com/squinkylabs/SqHarmony/tree/b2