I was trying to use Moots to unconnect a signal based on the "connectedness" state of another signal. I found an easy way to do this by using my Grande Logic module to control Moots.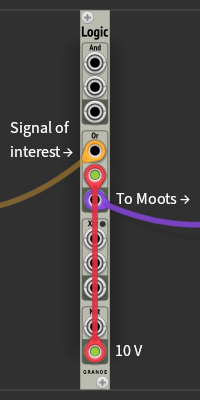 Connect the signal of interest (yellow) to the A-input of the OR gate. (Must be A-input.)
Connect the OR gate's B-input (red) to logic High. (The bottom NOT gate now outputs 10 V when its input is unconnected.)
Send the OR gate's output (purple) to the control input of Moots. It will be High when the signal of interest is connected, and Low otherwise.
My Logic module has a special feature that makes this possible. When only the B-input is connected, the two-input gates act like NOT gates. (High to NOT → Low, High to OR → High.)