Announcing: Sapphire Elastika
I've been down in the code bunker for the past two months working on my new module.
I'm excited to announce that Sapphire Elastika has just been released.
Elastika is a physical simulation that can be used as a filter, a resonator, a reverberator, or a sound generator by itself. There is a huge range of sound effects and textures it can create: metallic percussion, mystical drones, bells, wood blocks, gongs, even horrifying screeches. Some of my favorite discoveries are semi-chaotic modes of multi-stable oscillation.
Elastika simulates vibrations in a hexagonal mesh of balls and springs. The rest length and stiffness of the spring can be varied, along with a friction coefficient and a spreading of the range of ball masses. In addition to having spring forces acting on inertial balls, the simulation includes an adjustable magnetic field that acts on an electric charge on each ball. The magnetic field introduces a force acting at right angles to each ball's movement, producing a curling movement and sustained feedback effects.
Here is a diagram showing the layout of the balls and springs.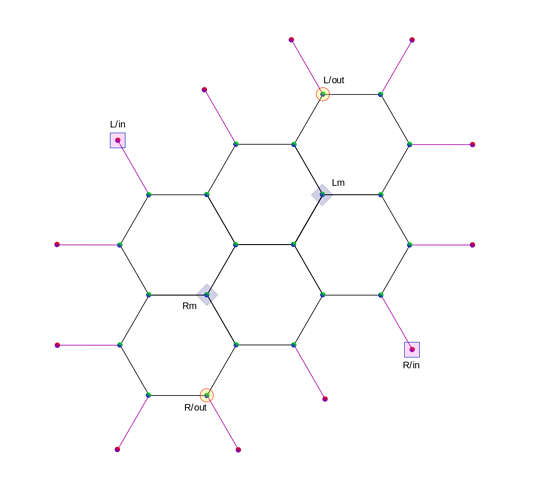 Stereo output is derived from the movement of the balls marked L/out and R/out. Optionally, audio can be fed into the balls marked L/in and R/in.
The Elastika documentation page has a more detailed explanation of the physics and control parameters.
Here are some demo videos. Headphones are recommended to best experience the stereo field.
Feeding in a simple square wave to produce a gong-like sound: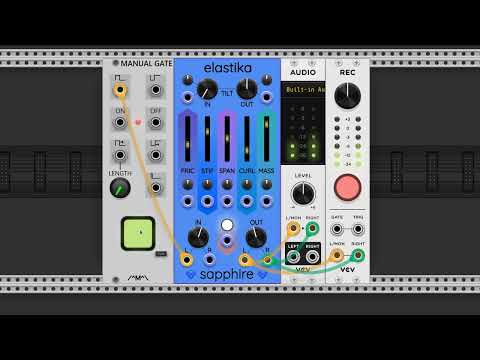 In the next video, Seaside Modular's Proteus generates a melody that is fed through Elastika, producing a texture that starts out like a steel drum and ends up more like electric guitar distortion: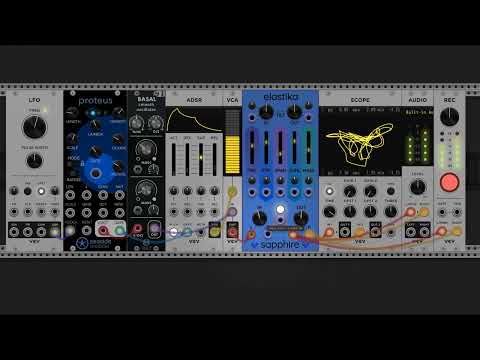 This video shows Elastika producing sounds on its own without any audio input. It is possible to tune it into self-oscillating modes that sound a little like a flute or recorder, then more like a trumpet. Parts of this recording are reminiscent of tuning a shortwave radio. Starting around 3:30 are some more chaotic and drone-like sounds.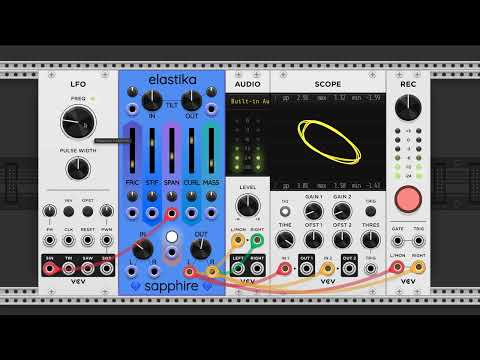 Here is another example of a generated sound texture. Using Instruo ochd to slighly permute the settings, Elastika exhibits indefinite reverberation while subtly changing texture throughout.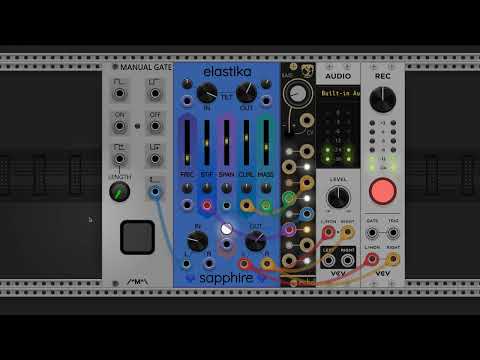 Even as its author, I don't know the outer limits of Elastika's expressive range. Elastika belongs in the realm of cellular automata and fractals — composite systems made of repeated parts that obey simple rules yet collectively exhibit complex emergent behaviors. In some cases, tiny adjustments to the controls can cause massive shifts in qualitative behavior.
As always, I am happy to answer questions and receive suggestions.
I'm especially interested in hearing any interesting sound textures you can create in Elastika. Please feel free to share patches and audio/video recordings here if you find something fun.