I'm posting here to announce the release of my VCV Rack plugin called Sapphire. For now it contains a single module called Sapphire Moots. More modules will be added in the near future, and all will be free and open source. Source code and documentation is available on the Sapphire GitHub repo.
The most interesting thing about Sapphire Moots is that, as far as I know, it is the only module that simulates plugging and unplugging cables from a port. It does this using either a push button or a gate voltage.
The implementation details may be interesting to other developers. It simulates unplugging all the cables connected to one of its five output ports by setting the port's polyphonic channel count to zero. As confirmed in an email conversation with @Vortico, this causes all the connected cables to have a channel count of zero, which VCV Rack considers identical to not being connected at all. When this happens, you can even see all the cables appear thinner on the screen than a monophonic cable.
I created this for cases where I found VCV Mutes did not work as I initially expected; that module mutes by setting all the output channel voltages to zero, but leaving all the channels intact. An example is the Audible Instruments Resonator module's input jack, which behaves differently when fed a polyphonic zero volt signal, versus not being connected at all.
Here is a video demo of Sapphire Moots in action: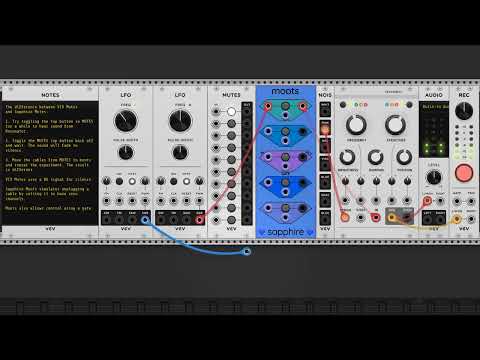 I hope VCV Rackers will find this an interesting addition to their creativity and fun. I'm eagerly interested in any feedback, comments, or questions. Fire away!