Over in DC offset on VCO outputs is bad, part #137 - #33 by baconpaul I suggested that perhaps some of the common problems people identify with modules could be auto-detected or some such. And said if I did it I would open up a quick new thread in development. This thread is that.
As part of a return to some rack work, i've sort of revived the bacon plugs modules. These modules always kinda sucked. I wrote them at Rack 0.5 and the first commit was on Dec 11, 2017. They are ancient and were sort of my first foray into rack. But it's kinda useful to have a set around so I recently fixed some up to do this and that you know.
But in the latest I've added a new module, useful for developers only, called LintBuddy. It's a simple module. It has an input and an output. You hook that input or output up to an output or input of another module and then it traverses the engine graph and finds a reference to that module that it can then run tests on.
It has two tests. The first is are all your inputs, outputs, and params labeled. The second is do you have any bypasses configured. But it's coded of course so we can add more.
Here's the bypass probe hooked up to Clocked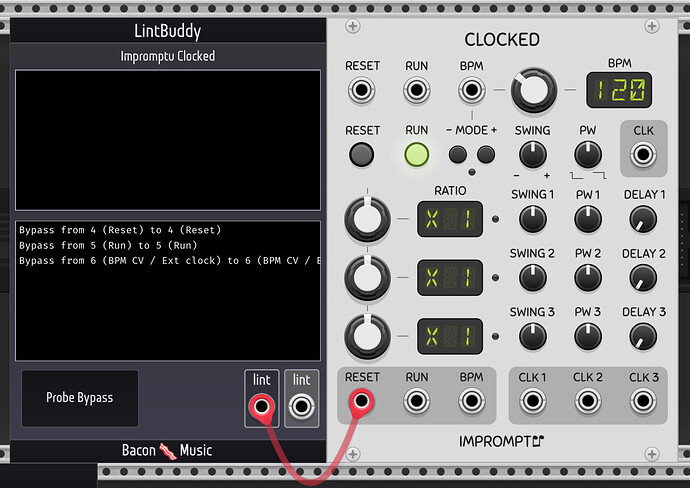 And here's the label check. You can see one parameter in Clocked doesn't have a name. (I presume this is a deprecated one of some form since the tooltips all seem to be there).
Anyway this helped me clean up some edges on surge and on bacon plugs so figured I would share. If you want to add a test, it's pretty easy code. If you want to run it, just build the plugs. I'll push this to the library soon enough also.
And also all ears on other things you might want to check. The one I'm interested in is: does paramquantity.stringtovalue of paramquantity valuetostring result in a stable conversion, for instance.