The 0.6 browser is so fast, and has that delicious favorite list at the top

I've forgotten how snappy v0.6 was! I still like v1 but thumbnails caching doesn't seem to work well for me, it's still slow to display modules. But still, it's quite useful to get previews sometimes!
Forgot how great the workflow of the 0.6 browser was with favorites. Didn't encourage exploration as much as the 1.x version, but so fast.
Thank you. I am embarrassed to admit I don't know what to do with the zip file (beyond extracting it)…can anyone direct this poor noob to some instructions?
Hi Ben,
A big 'Thank You' from my poor eyes for the 'Mb' module. This way is much better than the Windows Magnifier.
Best regards, Remo
Yeah, it's wonderful to have the option of both. My dream module browser combines the snappiness and the favorites of the v0.6 browser, with the ability to show previews at the click of a button. Like, literally just a button click to go from the small-lean browser to the full-featured one, and back again. Actually my dream browser has more features than that, but that's for another day…
You literally just download the zip file, and plop it into your "plugins-v1" directory, and then restart VCV Rack - job done!
Thank you! You guys are great.
My eyes can't thank you enough! Hoping something like this gets implemented in V2.
Just a short update for those who don't read the thread in the development section: I spent a little more time on the MB module and added following features:
The preview size can be changed directly in the browser (with the slider top-right or shift-scroll your mouse). It does not work super-smooth but it's usable I think.
Favorites in the v1 browser! Modules can be filtered using a new item right below the "reset filters button" or using the Space-key. Modules can be added to the favorites using a new context-menu within the module browser.
Hiding modules! Also on the new context menu in the browser. Hidden modules can be shown again (dimmed down) using Ctrl+Space key while the module browser is open.
Works fantastic Ben! I hope some day these features make it built into VCV Rack itself.
@stoermelder Dude! This is going to help a lot in such productive ways. You don't even know. Okay, maybe you do.

Thank you so much. Now I really need to buy you a few beers. Even more-so now than before. All your modules are wicked! This just will help a lot more now.
Is there any way you could make more columns so while we favour these modules, they can spread out width wise too?

(This was a wish as well before the menu change)
Anyway, now I am asking too much. I will totally enjoy my weekend even more now. Thank you.
Thank you, most of the credit goes to Andrew for building this kind of platform

Can you eloborate what you mean by that? I'm afraid I can't follow what you mean by "more columns"?
While we favour each module, they go straight down into a scrolling modal type view. It'd be nice to have more columns spread out in the negative space(left and right, not just centered. Or possibly being able to navigate the favourites by click/holding, and moving the mouse on a favourite module to place in a different column.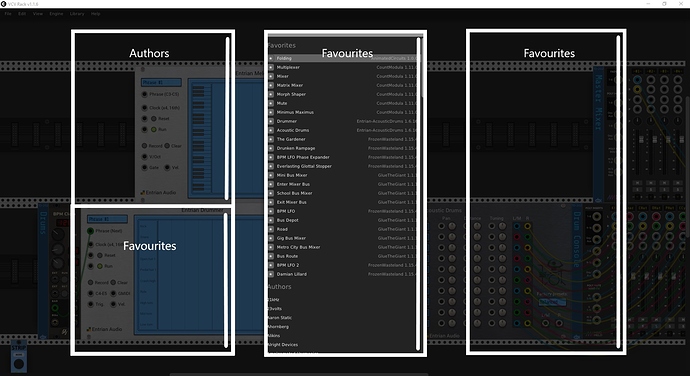 With favoured items: click and hold and move to sort items per column
Authors items left alphabetically sorted
Perhaps even more room below the columns to show top 5 patches as building blocks, shown horizontally for specific track needs, (bass, drums, synth, EQ patches) Similar to what STRIP does.
@stoermelder Another thing I sketched up, giving the 3rd point from my prior post.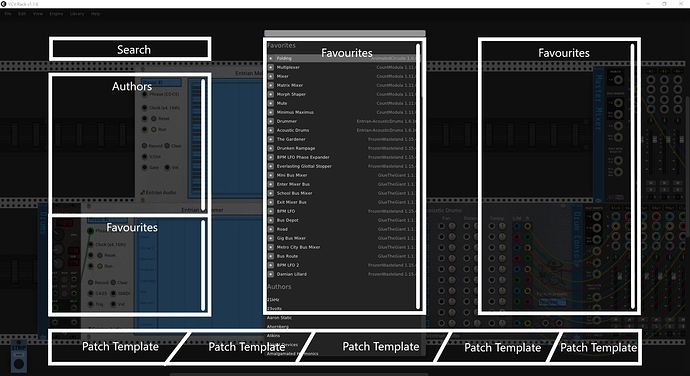 Hmm. Perhaps below Authors could be saved patches or folder directory. Then you have a really cool and proactive starting point into creation.

Oh ok, I didn't realize you were talking about the v0.6 browser. I'm pretty certain I won't invest much time on development for this browser. Most people like the v1 browser but it lacks some frequently requested features in Rack's current implementation, so I will add a few of them until Rack brings its own new module browser.
Just found out about the Favourites option on V1 with your plugin. Love it! Might use this instead of the 0.6 version menu.

Just discovered this and got it installed. Makes the library browser much more usable for me, thank you! Oh, and your modules look awesome as well. I'm new to VCV so still just figuring out the basics. Devs like you and those who have created & contributed to VCV have my gratitude for making modular accessible to those of us who can't currently afford a hw system.